Snickerdoodles, snowballs, and pretzel sticks are among the baked goods set to make it big in 2022, according to the third annual Baileys Treat Report.
The alcohol brand partnered with food futurologist Dr Morgaine Gaye for the report as well as the 'Baileys treat collective' featuring pastry chefs and bakers from across the world, including cronut creator Dominique Ansel, baker Lily Jones from London-based Lily Vanilli, former Bake Off contestant Benjamina Ebuehi and Pooja Dhingra, founder and chef of India-based Le15 Patisserie.
It highlights adding a touch of sparkle to cupcakes and truffles as one trend expected to go big in 2022, alongside nut-based desserts, the use of bright and bold colours and hyper-textured cakes and desserts which take their inspiration from art and architecture.
Alongside these trends, Baileys and its team of experts also predicted the rise of several bakery treats. Take a peek at its predictions, and the reasons behind them, below: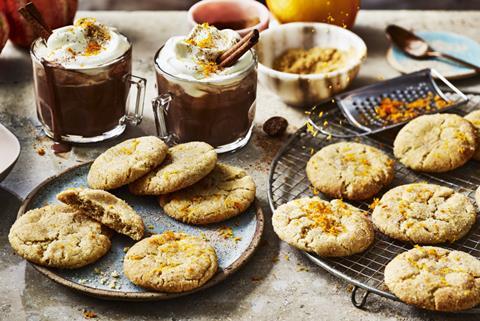 Snickerdoodles
Baileys is putting its bets on these 'fluffy and pillowy' US cookies in 2022 claiming they're about to 'take the world by storm'. Possibly confusing to the UK consumer as they don't contain a certain popular chocolate bar, Baileys described them as a cookie/cake hybrid which is traditionally paired with a dusting of cinnamon sugar.
"But while the classic snickerdoodle is always a winner, we're now seeing endless incarnations featuring just about anything you can dream of – think lemon with blueberry sugar, or everyone's seasonal fave [sic], pumpkin spice," the report stated.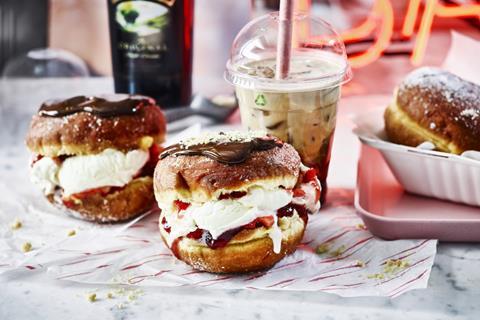 Cremella
The cremella takes the humble doughnut and elevates it to dessert heaven (even making use of surplus at the same time). It often utilises yesterday's doughnuts which have been refreshed, halved, and filled with ice cream before being drizzled with lashings of toppings.
They're popping up in London thanks to ice cream bar Happy Endings and others and proving to be a hit on the other side of the pond in New York's Chinatown, according to Baileys.
"The combination is a real winner," said Jones from Lily Vanilla. "The trick Terri Mercieca from Happy Endings, and others like her, have mastered is avoiding over sweetness with a hint of salt in the cookie crunch. Also, going for more adult flavours like Guinness and malt elevate this to a level serious food lovers will enjoy, while keeping all the fun and nostalgia of the original treat."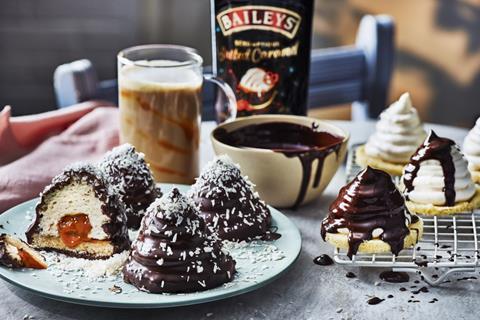 Snowballs
Enjoying a revival and tapping into the nostalgia trend which has taken hold of bakery these past few years is the snowball, according to Baileys.
"These retro treats are little bites of pleasure, combining pillowy marshmallow, a powdery cloud of icing sugar and a dollop of jam in the middle. But their new incarnation is bigger, and a whole lot better," the report stated. For starters, snowballs are shaped more like a mountain than their namesake owing to the excess of marshmallow on the biscuit base inside. They're also topped with chopped nuts, chocolate, desiccated coconut, and other toppings with the jam often replaced with an on-trend caramel or retro custard.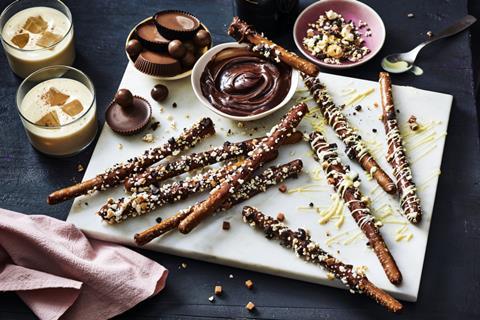 Pretzel sticks
Pretzel sticks are touted as the perfect sharing treat by Baileys, which describes them as the 'ultimate hybrid of sweet and salty', particularly when dipped in or drizzled with chocolate and topped with nuts, cacao nibs and other sprinkles.
What's more, demand for shareable treats means Baileys believes churros are also set to grow further in popularity this year as creators experiment with new types of batter from red velvet to chocolate, and even filling them with custard of shaping them for a seasonal twist.
"They can be filled with all kinds of flavours, although I will always recommend dulce de leche, and whilst the filling requires a more complex technique or a rather specific tool, it can be perfectly replaced by a dip so that no one misses out on this delight, transforming it into a real treating experience," said Teffi Russo, founder of recipe website Inutilismas in Argentina.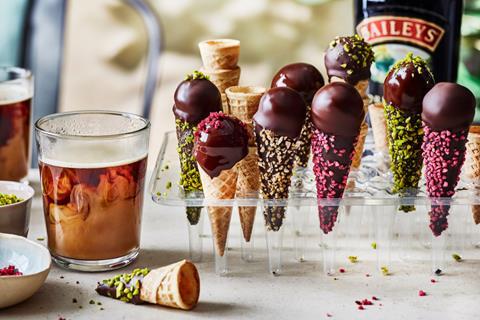 Cones
Forget the flimsy wafer cones from days gone by – Baileys has predicted that indulgent and innovative cones will capture the attention of consumers and chefs alike in 2022. There's the simple yet effective chocolate and nut-covered cones to those featuring charcoal, the already popular bubble waffle cones, internationally renowned chimney bread cones and even ones made from churros.
"I love to prepare bubble waffles and serve them as an ice cream-filled cone," said Alma Obregén, founder of Spanish bakery Alma Cupcakes. "The recipe is similar to that of American waffles and the trick is to shape them while they're still hot. You can also customise the dough for different cone flavours such as cookies and cream, red velvet or cinnamon and apple."
Dominique Ansel has taken the meaning of a cone even further serving up ice cream in a bamboo cone in his Hong Kong bakery, while his creation from a few years ago called What-a-Melon Soft Serve was swirled into a wedge of fresh watermelon.