Ruby chocolate, nostalgia inducing S'mores, bitter coffee and spicy chipotle chilli are among the flavours destined to be big in bakery this year, according to supplier Dawn Foods.
Here, Jacqui Passmore, marketing manager UK and Ireland at Dawn Foods, explains how and why these flavours could inspire new sweet and savoury treats in 2022.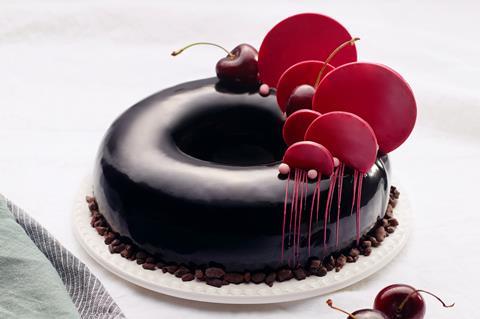 A lotta chocolate
Chocolate is king when it comes to sweet bakery but that doesn't mean the nation of chocoholics will settle for the same thing every time. "Consumers are experimenting with new types of chocolate such as ruby or gold chocolate," Passmore explains.
Ruby chocolate, known as the 'fourth' type of chocolate with a natural pink hue, first hit the scene in 2017 and has slowly been gaining traction since. It's appeared in cheesecakes, KitKats and Asda even embraced it as part of its summer 2021 range in the form of a Ruby Chocolate & Raspberry Cake.
Dark chocolate is also growing in popularity as consumers seek a stronger cocoa flavour and less sweetness, often paired with tangy fruit.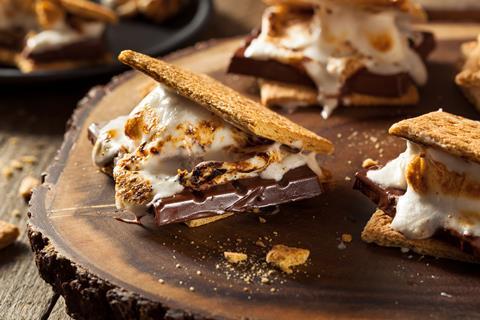 S'more please!
US favourite s'mores and Belgian spiced cookies speculoos could feature in more bakery NPD next year as the nostalgia trend shows no sign of abating.
"We are still hankering after treats of yesteryear but perceiving things with a new twist," Passmore adds, noting that popular fizzy drink flavours could also offer a chance to mix things up.
Festive yet nostalgic favourites chocolate orange and Black Forest were also highlighted by many experts as flavours set to boom in 2022, as highlighted in British Baker's top trends report.
Coffee chain Costa has already jumped on the nostalgia train with its Gimme S'mores Cake, new for 2022, which is topped with speculoos frosting, brownie pieces and marshmallows as well as a drizzle of speculoos spread and chocolate ganache.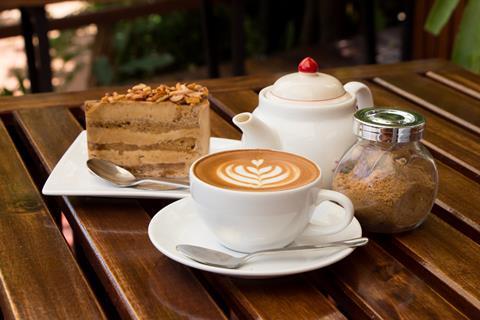 Caffè culture means cake
Speaking of Costa, Dawn Foods believes tea and coffee flavours will also grow in popularity as Brits seek their morning coffee fix through baked goods based around their favourite morning pick-me-ups such as latte, mocha, and espresso.
Sweet treat specialist and café operator Love Brownies sought to utilise this trend in the latter part of 2021 with the launch of its Espresso Brownies made with the company's in-house coffee blend and finished with a cappuccino chocolate drizzle. Dawn Foods even rolled out a Cappuccino Fudge Icing last year to help bakers embrace coffee shop flavours in cakes and other sweet treats.
There's also an opportunity for tea as Passmore notes "herbal and floral tea flavours will also feature in sweet bakes, particularly in complementary icings and frostings".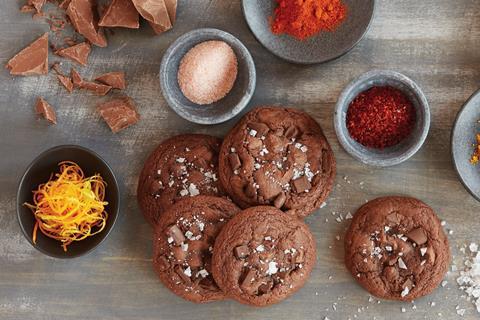 International inspiration
With travel limited over the past two years, consumers are getting their international kicks through food. "New tastes and ingredients from global, ethnic cuisines give consumers the opportunity to try new cultures from the comfort of their own home or local restaurant," Passmore explains.
Flavours Dawn Foods expects to see more in bakery this year include moringa, ginseng, cacao, yuzu and matcha. Chipotle and cayenne could also prove popular, particularly in savoury bakes, Dawn adds, owing to a boom in the popularity of Mexican food. However, it could also find a home in sweet treats. "Consumers are after bakes that are a treat for every sense, so dialling up the flavour with bold spicy tones often combined with sweetness looks to be a winner," says Passmore.
Herbs such as basil and rosemary also lend themselves to sweet dishes, she adds.