Health, sustainability, and indulgence are among the top bread trends for 2021 and beyond, according to the latest report by Délifrance.
Called Prove It: A Bread Focus, the report's findings are drawn from interviews with 500 UK adults who regularly eat bread with additional research conducted in France, Germany and Italy. Délifrance also partnered with trends consultants Harris & Hayes and commissioned Nielsen to run a UK-wide retail study.
"The UK bread market is currently worth £7.5bn," said Stéphanie Brillouet, marketing director for Délifrance. "As some 41% of consumers eat bread every day or almost every day, there are plenty of opportunities to reach staple bread fans and new consumption occasions, particularly when we take into account that we expect to see increased indulgence and health-based snacking in the category."
Here, we take explore some of the key findings from the report:
Channel and format changes
Retail gained an extra 4% of fresh bread's market share in 2020 as the balance between it and foodservice adjusted from a 66/34 split pre-pandemic to 70/30. And, while Délifrance predicts the previous balance will be restored, it could take until at least 2025.
However, fresh bread overall suffered an 11.6% volume decline in 2020 along with frozen bake-off, which was down 9.7%, while packaged bread volumes grew 8.4%. This resulted in an overall volume increase across the bread market of 0.5%.
"The dynamic between packaged and fresh is expected to return towards pre-Covid trends, with packaged bread sales slowing and fresh returning to growth," the report stated. "Bake-off bread is set to see the strongest growth over the next five years."
However, Délifrance admitted these predictions were reliant on lockdowns lifting and a strong return for foodservice.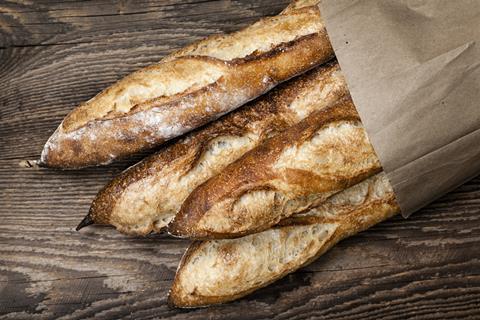 Consumer attitudes towards bread
Half of Brits buy bread at least once a week, according to the report, with 5% buying it every day.
Unsurprisingly, white sliced remains a favourite due to its price and shelf life but others are being picked up by consumers on a weekly basis. Here's the breakdown of the types of bread purchased at least once a week:
48% buy white, brown and wholemeal loaves
19% buy rolls
17% buy seeded loaves
11% buy baguettes
6% buy sourdough loaves
5% buy Italian breads
4% buy breads with added ingredients
"Bread is many things, sometimes to the same consumer," the report stated. "While the popularity of core white, brown and wholemeal loaves prove bread is a staple, diners opt for more premium or indulgent options – including sourdough, tiger bread and rye – at the weekend."
Staples vs health and wellness
More than a quarter (26%) of those polled admitted to eating less bread largely for health reasons. Fifty nine percent said they were paying attention to their weight, 26% believe bread makes them bloated and 17% are doing so as they look to reduce their salt intake.
However, with only 29% of those eating less bread saying nothing could encourage them to eat more in the future, Délifrance believes healthier options could sway many of those holding back. Its research found that:
40% would eat more breads rich in fibre
38% would eat more breads with extra grains
22% would eat more breads with low salt content
21% would eat more sourdough
21% would eat more breads that are high in protein
"We know consumers would eat more bread if there were healthier options available. This is a key opportunity for retailers and operators if they dial up communication on added wellness benefits," Brillouet said.
Bread of the future
Taste will still be king in the future, but consumers are seeking more adventurous options as well as those with perceived health benefits. Additional ingredients such as cheese, olives, nuts, and seeds are the most popular suggestions for 30% of those polled but Hayes noted that beer, seaweed, and apple fibre could bring more unusual inclusions and flavours to the bread market.
"A step on from inclusion bread, ingredient-led breads have interesting, health-driven ingredients at their core, for example yoghurt, craft beer or vegetables," said Harris and Hayes in the report.
"We'll see a rise in science-based collaborations as brands enlist the support of forward-thinking ingredients suppliers and research centres. Consumers are tired of woolly marketing claims and will look to brands that offer genuine health functionally backed by science," they added.
Not all the additions are about health though as Délifrance noted that some work for consumers seeking some occasional indulgence from their loaves. Thirteen percent of consumers will probably choose something different at the weekend when sourdough loaves, rye breads, Italian-style breads, breads with inclusions and baguettes are more likely to be eaten. As such, the firm said that bringing in seasonal or luxury ingredients that wouldn't necessarily be desired in 'everyday' bread could keep consumers coming back to the category more often.