What do George Clooney, Robert De Niro and Sylvester Stallone have in common? Apart from being successful A-list celebrities, they've all appeared in commercials for Warburtons in recent years.
But while the stardust-sprinkled adverts are slick, memorable and have undoubtedly driven engagement, they're just one ingredient in a prizewinning formula that keeps on giving for the Bolton-based brand. For the third year in a row, the fifth-generation family bakery has retained its crown as Britain's most popular food brand in Kantar's annual Brand Footprint report.
So how has the 146-year-old bakery achieved this?
According to Joe Shaw Roberts, a consumer insight director at analyst Kantar, 85% of the top 20 FMCG brands grew their Consumer Reach Points (CRP) – a metric calculated on how many households are buying a brand, how often and how this compares across countries, categories and competitors – in 2020. With this in mind, the biggest brands do tend to outperform the competition when it comes to brand footprint.
Warburtons scored 591m CRPs last year, up from 534m in 2019 representing growth of 11%. But it wasn't the only major bakery brand to grace the list (see table below) as McVitie's remained steadfast in third place with a CRP of 301m, followed by Hovis in fourth with 274m showing growth of 5% and 7%, respectively.
The report shows that the uncertainty and disruption caused by Covid-19 helped many staple food and drink categories as consumers reached for trusted names, Kantar notes. However, Kingsmill dropped down the rankings to the number 9 spot while Mr Kipling also fell to number 15, despite its CRP increasing slightly to 111 and its sales reaching £150m for the first time ever.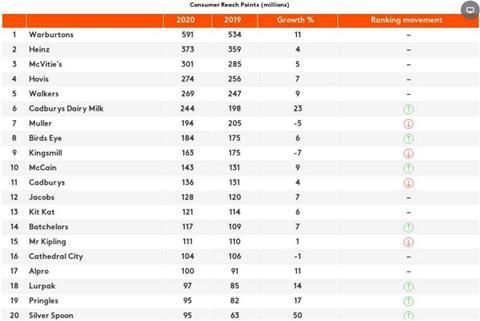 Thinking outside the bread box
When lockdown heralded the rise of the in-home lunch Warburtons was well placed to capitalise due to its vast array of bakery items.
"If you look at their product range outside of wrapped bread, it's actually pretty wide," Shaw Roberts explains. "So, bagels, pittas, sandwich thins, and rolls. Through that portfolio they're appealing to the widest range of occasions and shoppers."
He believes innovation around product development is one of the reasons the brand, which produces two million products every day at its 11 bakeries, sees customers returning time and time again.
"They put the consumer at the heart of what they do and really engage with all the market trends," he says. "If you look at the relaunch of their half and half product in summer 2020, they added calcium and vitamin D, as well as calling out that the loaves were really high in fibre. At the time we were advising all our clients in general that the nuance of health trends happening in the market was moving towards added value health, protein, minerals etc rather than just calorie counting."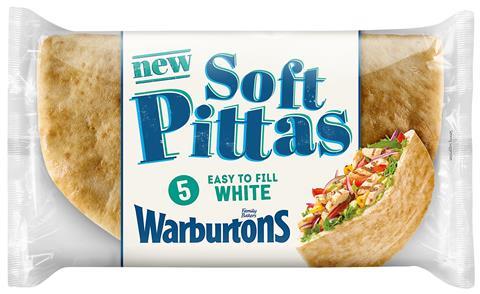 The bakery's recent foray into pitta bread as a healthy sandwich alternative is another example of how it tries to remain one step ahead with its NPD. Consumer feedback suggested that pittas were viewed as dry, difficult to open and prone to tearing and breaking easily.
Cue Warburton's response to create a product that aimed to solve these issues. "These are the areas we have really tried to address and turn into our key benefits so that we have a unique and strong proposition in pittas," its spokesperson said at the time of launch.
Building on trust
There are numerous lessons to be learned. Shaw Roberts argues there has never been a more important time for bakery brands to build consumer trust, especially as they are facing increasing competition from private label which grew ahead of brands last year.
"They need to have a point of difference," he says. "Think about the good stuff that Warburtons has done. The presence in different categories, quality and focus on nutritional and health benefits. You're much more able to do that effectively through a brand, rather than through private label."
George Clooney popping up on a video call in its latest commercial was, arguably, the icing on the cake and in so doing displayed the brand's sense of humour. The memorable ad not only reflected a sign of the times but raised a few much-needed laughs and, once again, put the Warburtons brand very much centre stage.