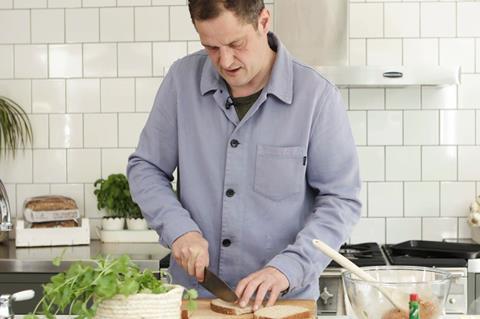 Allied Bakeries-owned Allinson's has signed up chef Valentine Warner to front a new campaign aimed at inspiring the public to use bread for much more than a humble sandwich.
Warner, who is famed for his non-traditional provincial style of cooking, will create inventive recipes and video content using the brand's Champion Wholemeal and Scandalous Seeds Wholemeal loaves as part of the trade and consumer push.
The collaboration comes on the back of a poll of 2,000 consumers conducted by One Poll on behalf of Allinson's which found Brits were turning their backs on 'boring lunches' in favour of 'trendy open sandwiches' and 'bruschetta', with 41% of shoppers expressing an interest to try new things.
"This is a pivotal moment for Allinson's, sharing our story with consumers in a way that we have never done before," said Louise Crighton, assistant brand manager at Allinson's, which was established in 1892 by pioneering baker Thomas Allinson.
"The aim is to reinforce our proposition as a bridge between wrapped bread and in-store bakery, championing our batch baked loaf and great tasting wholemeal recipe, that has helped Allinson's to become the UK's no 1 premium wholemeal bread brand."
Warner added: "Thinking outside the box, or the bread bin perhaps, will take lunch into extraordinary new places, especially when we have more foods to experiment with than ever before. The versatility of bread means it can be used for so much more than the obvious."
According to Nielsen figures to the end of May, the premium bread category is thriving – up 5% YOY as more consumers seek craft-style loaves.