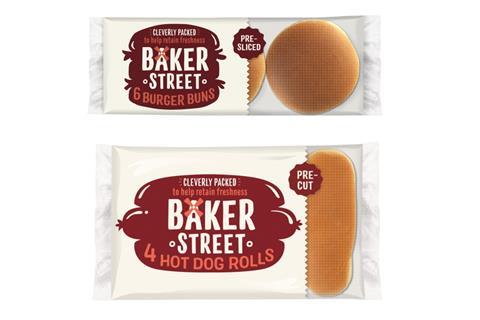 St Pierre Groupe's Baker Street brand has secured a deal to supply Ocado with burger buns and hot dogs rolls.
The burger buns, in packs of six, and hot dog rolls, in packs of four, are available from Ocado with an rsp of £1.50 each. They join Baker Street's Seeded Rye Bread, Rye & Wheat Bread and Mega Brioche Burger Buns at the online retailer.
It follows the bakery brand's first multiple listing with Tesco in September for its three-strong range of stollen.
Baker Street, which specialises in extended life products, has seen its sales rise 35% to the year ended September 2020. It's now worth £24m predominantly driven by sales in the convenience and wholesale sectors.
"The brand is on track for its fourth consecutive year of double-digit growth. We've always advocated for great taste with less waste and the UK market is starting to take notice. Consumers are more aware than ever before of food waste and its impact, so our extended life products are resonating with a new, wider audience," said Jeremy Gilboy, co-founder of St Pierre Groupe.
"Our sliced breads already have a loyal customer base, but the pandemic has meant people have looked to reduce the frequency of their shopping trips, giving longer life products greater appeal. Extending Baker Street listings with Ocado, especially whilst they're experiencing such rapid growth, is a fantastic achievement and will help drive further exposure for the brand."
The firm's other brands – Paul Hollywood and St Pierre – have also experienced sales growth over the past year.
In a recent exclusive interview with British Baker, St Pierre Groupe co-founder Paul Baker said demand for its products went through the roof during lockdown, adding that the advancement of online would be a driver for growth in the future.