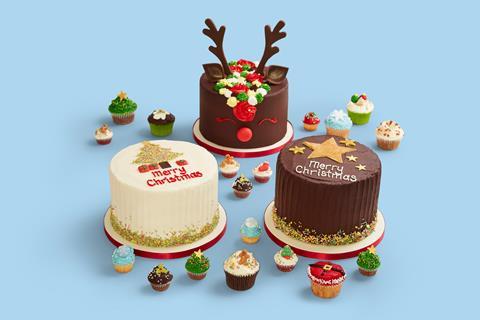 The nation's bakers, brands and manufacturers are gearing up for Christmas 2020, unwrapping a host of festive sweet and savoury bakery NPD.
There are seasonal spins on year-round favourites, such as McVitie's Digestives, new twists on Christmas classics, like stollen and Christmas cake, plus bakery treats for those looking for vegan-friendly or gluten-free options as well.
Retailers including Marks & Spencer, Waitrose, Aldi, Tesco and Asda have already revealed their plans for the occasion.
Here's our pick of the festive bakery offering for 2020:
Seasonal Milk Chocolate Digestives, McVitie's
Merry McVitie's! That's the message from brand owner Pladis as it gives its classic milk chocolate Digestives a festive makeover. New to the scene for 2020 are Christmas pudding and gingerbread Milk Chocolate Digestives in seasonal packaging for an rsp of £1.50 per pack.
"This year we're taking the range one step further by giving some of our bestsellers – McVitie's Digestives and McVitie's Jaffa Cakes – a festive transformation, offering retailers the chance to take an even bigger bite out of the £161 million seasonal sales opportunity," said Jonathan Bull, head of McVitie's commercial and seasonal brands at Pladis UK&I.
Jaffa Cakes have also been given a festive twist by adding seasonal flavour cranberry to the treat. The Jaffa Cakes Orange & Cranberry comprise the signature sponge, coated in milk and dark chocolate with an orange and cranberry jelly, for an rsp of £1.20 a pack.
McVitie's is also looking to celebrate its 180th anniversary with a celebratory heritage tin. Described as its 'most premium offering' in this year's seasonal line-up, it's filled with a selection of 28 biscuits.
Previous Christmas favourites are also returning to shelves in the form of McVitie's Victoria and Family Circle biscuit assortments, White Chocolate Digestive Nibbles and the Jaffe Cake Pole.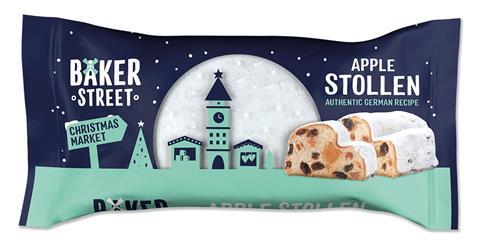 Apple Stollen, Baker Street
St Pierre Groupe's Baker Street brand has added a three-strong stollen range to its portfolio for the festive period. There's the Apple Stollen Loaf, Marzipan Stollen and Stollen Bites which are all made to an authentic German recipe, according to the brand.
The range has secured a national listing in Tesco – a first for the Baker Street brand which St Pierre describes as a staple of the convenience sector.
This NPD comes off the back of research which found that 53% of consumers buy stollen to share with friends and family at home, while 30% have it as a snack.
"Our research showed that almost 50 per cent of consumers are buying Stollen over the Christmas period and eating it for various occasions, which is why we've introduced two different formats," said St Pierre Groupe co-founder Jeremy Gilboy.
"Securing a Baker Street listing in Tesco is a fantastic achievement and will help drive further exposure for the brand. Year on year growth shows we're up 34 per cent in value sales, which is as strong an argument as any that we are a must-stock for retailers nationwide."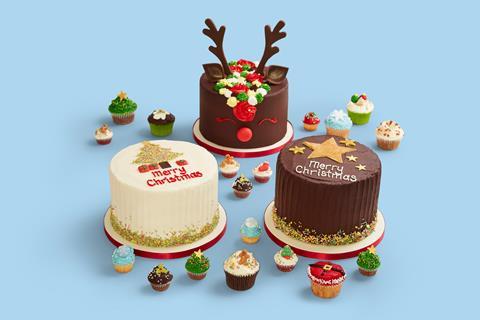 Christmas Collection, Hummingbird Bakery
London's Hummingbird Bakery has unveiled its Christmas range for 2020, which features a host of vegan and 'made without gluten' treats as well as festive cupcakes and whole cakes.
Its range includes:
Christmas Chocolate Piñata Cake: a chocolate sponge with chocolate frosting topped with a star design and sprinkles, filled with M&Ms in 6" or 8" (£42.95/£62.95)
Christmas Tree Vanilla Cake: a green and red coloured vanilla sponge with vanilla frosting and Christmas tree sprinkle design in 6" or 8" (£37.95/£57.95)
Reindeer Rainbow Cake: a vanilla rainbow sponge with chocolate frosting or vanilla rainbow sponge with vanilla frosting topped with a reindeer design in 8" (£64.95)
Vegan Christmas Red Velvet Cake: a vegan red velvet sponge with cream cheese frosting topped with a snowman design in 6" or 8" (£34.95/£54.95)
Christmas Cupcake Selection Box: a box of six festive cupcakes (£19.95)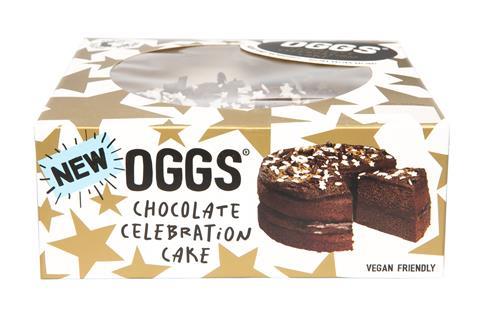 Chocolate Celebration Cake, Oggs
Oggs is serving up what it describes as a great alternative to a traditional Christmas cake in the form of its Chocolate Celebration Cake. The vegan-friendly chocolate sponge is filled and topped with chocolate fudge frosting and finished with chocolate curls, edible stars and festive gold shimmer. It's available in Waitrose with an rsp of £8.00.
The vegan brand has also brought back its handmade mince pies for 2020. Made without any eggs or butter, they're described as 'brimming' with mincemeat and topped with a pastry star. They cost £2.50 for a pack of four and are available in Sainsbury's.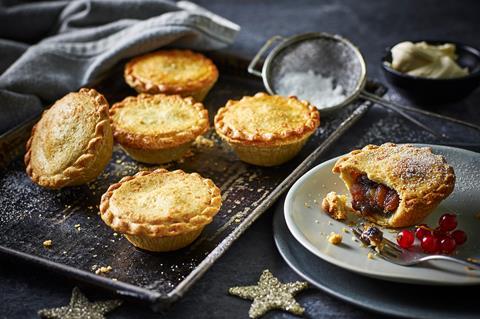 Ready-To-Bake Mince Pies, Wrights Food Group for M&S
A warm mince pie fresh from the oven is something truly special. Marks & Spencer (M&S) is helping its consumers capture this moment by partnering with Wrights Food Group on ready-to-bake frozen mince pies. Available in a pack of six, the mince pies comprise all-butter shortcrust pastry with a rich mincemeat filling of sultanas, Vostizza currants and raisins.
Wrights also worked with M&S to develop a Plant Kitchen Vegan Sticky Toffee Pudding. Sold frozen, the pudding has a lightly spiced sticky toffee sponge and is topped with a salted caramel sauce.
Both products were launched at the start of October following six months of development.
"Wrights Food Group, with almost a century of food development, manufacture and distribution expertise have proved themselves the perfect partner in helping us bring to market a high quality vegan sticky toffee pudding – to rival any alternative luxury offer – and a truly exceptional, all-butter pastry frozen mince pie which gives consumers the opportunity to indulge in that important 'bake at home' experience," said Rebecca Robinson, M&S buyer – frozen