As the UK continues to sizzle in record-breaking temperatures, bakery and foodservice brands have unveiled an array of new products to get pulses racing.
Here, we take a closer look at the latest bakery NPD from Funnybones FoodService, The Delicious Dessert Company, Dawn Foods and Country Choice.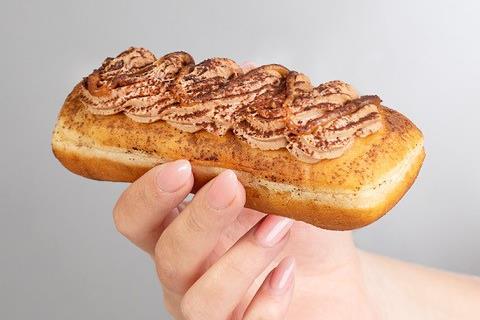 The Delicious Dessert Company, Long Johns
The Delicious Dessert Company has debuted two Long Johns in 433 Tesco stores nationwide.
Originating from the US, the bar-shaped, yeast-risen pastry – similar to an éclair – is being sold in two variants:
• Millionaire's – featuring caramel sauce, chocolate crème pâtissière and cocoa powder
• Sticky Toffee – a combination of sticky toffee crème pâtissière, rich toffee sauce and a sweet dusting.
The NPD follows the launch of the brand's Celebration éclair for the Platinum Jubilee. "As with the eclair range, our Long Johns will bring a modern twist to a classic, as we set about re-inventing popular dessert products for a new age," Claire Smith, The Delicious Dessert Company's head of insight, said.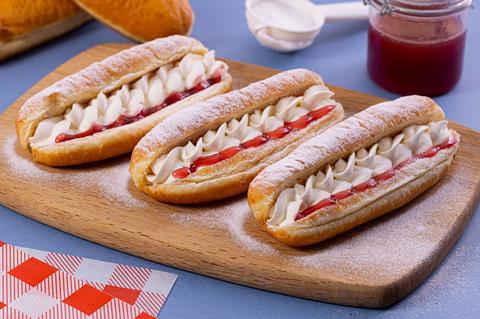 Dawn Foods, frozen doughnut fingers
Dawn Foods has extended its frozen doughnut range with a new finger variant that defrosts in just two hours.
Available in packs of 36, the product can be split and filled with ingredients such as jam and cream and is said to include no artificial colours or flavours.
The NPD comes after Statista predicted global doughnut revenue would increase by approximately 13% between 2021 and 2024.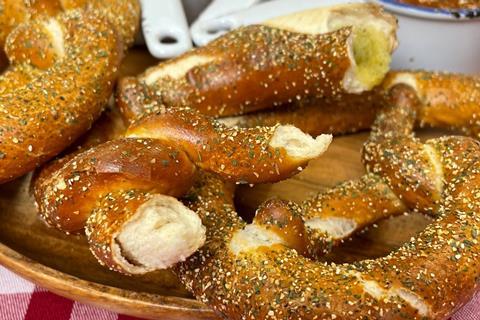 Funnybones Foodservice, German-style pretzel
Funnybones Foodservice has launched a German-style savoury filled with garlic and herb butter. The South Western Germany-inspired Swabian Pretzel, which is said to be chewy, is sold in cases of 48 and can be cooked from frozen in two to three minutes. It can be served as a side, as part of a sharer or alongside soups and starters.
"A really good pretzel is a wonderful thing," Tom Styman-Heighton, development chef at Funnybones Foodservice, said. "They should be served slightly warm to ensure they are at their best.
"We are accustomed to a crunchy biscuit-style pretzel here, but the Americans enjoy the real McCoy. The best Pretzels deliver a chewy outer enclosing a softer interior, are brown in colour, often salted and always made from a long roll of dough tied in a knot."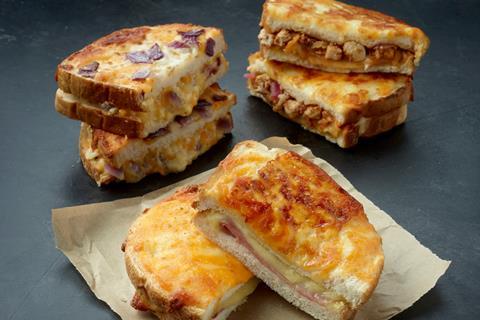 Savour It! Toasties, Country Choice
Country Choice has unveiled new bake-in-pack Savour It! Toasties in four varieties.
Suitable for outlets with limited labour and cooking facilities, the individually wrapped grab-and-go toasties come frozen and ready-assembled from ovenable film, ready to bake in around 25 minutes. They can then be displayed in a hot unit for up to four hours.
The Four Cheese & Onion Toastie is a white bloomer filled with Vintage Cheddar, mozzarella, red Leicester cheese, béchamel and red onion, then topped with béchamel, cheddar, mozzarella and red onion. The Ham & Cheese variety is a white bloomer filled with Wiltshire ham and mild cheddar cheese, topped with béchamel, cheddar and mozzarella.
The Tuna Melt Toastie white bloomer is filled with tuna, spring onion and mozzarella, and the BBQ Chicken flavour is packed with BBQ chicken, mozzarella, mustard, béchamel and pink pickled onion. Both are finished with a topping of béchamel, cheddar and mozzarella cheese.
All four Savour It! Toasties come in compact, freezer-friendly packs of 20, and have an RRP of £3.95 per unit.