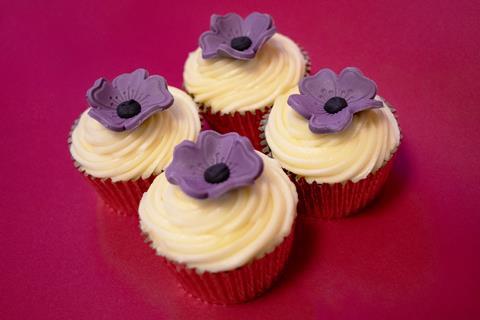 Derby-based Birds Bakery has rolled out cupcakes to celebrate Remembrance Day on 11 November.
The chocolate sponge cupcakes (£1.25/each) feature a mixture of red and purple edible poppies to signify the veterans and animals that served during wartime. Hand-finished with frosting, they are available this month in all 60 of Birds' branches across the East Midlands.
Birds Bakery is supporting the Royal British Legion's biggest fundraising campaign, with 20p from every cupcake sold donated to the Poppy Appeal.
Following the announcement of a second UK lockdown, the cupcakes will be available for takeaway only. Birds will be keeping its shops open for business, but is temporarily closing seating areas in all stores.
"We are delighted to announce that we will be selling our poppy cupcakes in both red and purple this year and we are really pleased to be supporting such an important fundraising campaign through the country's largest Armed Forces charity. The purple poppy is not as recognised as the traditional red poppy, which is why we also wanted to make sure that we recognised animals that served during wartime," said Lesley Bird, chief operating officer at Birds Bakery.
Takeaway and ring & reserve services will still be open, added Bird. Those who are unable or don't feel comfortable leaving their homes can use its local delivery service, which will run every week from Tuesday to Saturday.
"We raised £600 for the Poppy Appeal last year and we really hope we can match that or do even better this year. Like many charities this year, the Poppy Appeal has had to adapt to the threat of Covid-19 and is relying on public support more than ever."