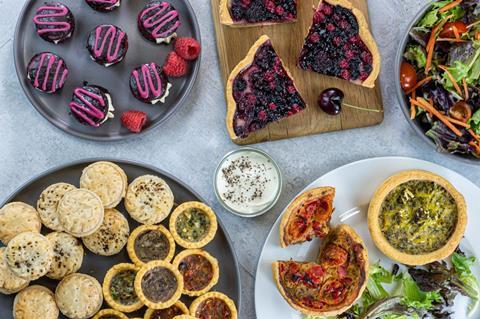 A host of new products have hit the bakery scene from firms including Bridor, Spar and Frank Dale.
There's a new high-fibre baguette, which took four years to develop, vegan tarts for those staying on the plant-based bandwagon when Veganuary ends and savoury snacking options.
Here's a selection of the latest bakery NPD:

L'Ambiote multi-fibre bread, Bridor
Bridor's latest piece of NPD has been four years in the making and is the result of research undertaken by the French bakery manufacturer and its scientific partners.
Called L'Ambiote, the enriched fibre bread range is sourdough based and composed of seven vegetal fibres which Bridor said were 'rigorously selected' for their health benefits by Joël Doré, research director at the National Institute of Agronomic and Environment Research.
The firm started working on its development in 2016 in partnership with Doré to make it easier for consumers to diversify and increase their fibre intake.
Its available in a classic baguette format in two variants – Ambiote and Ambiote with cereals and seeds – as well as a loaf format. Bridor added that it can be adapted to other formats on demand.
"The development of l'Amibiote over the past four years represents Bridor's ongoing commitment to producing 'better for you' bakery products. Having a fibre-rich dietary staple available in an accessible, everyday format that appeals to consumers of all ages, is very important to us and is something we're very excited to see flourish," said Erwan Inizan, UK sales director at Bridor.
The launch comes shortly after Puratos UK secured a government-funded grant for a product called Maxfibre – a high-fibre micro powder made from by-products of brewery, cereal milling and fruit processing.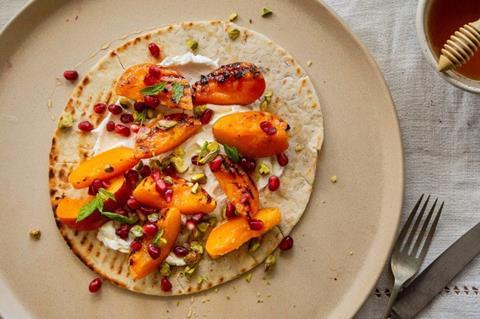 Paninette pizza base, Dina Foods
Mediterranean foods supplier Dina Foods has expanded its Paninette flatbreads range with a pizza base.
The eight-inch pizza bases are made of soft dough, baked in Dina Foods' stone ovens, which can be filled, used as a wrap or topped like a pizza. They'll be sold in packs of four via supermarkets, convenience stores and foodservice markets and have a 90-day shelf life.
"The versatile new product is being launched in response to the growing demand for quick and healthy meal-time solutions, as working from home becomes the new normal," said managing director Suheil Haddad.
"Paninette pizza bases are also perfect for authentic Lebanese pizzas, known as Manakeesh, with toppings such as thyme, sesame and olive oil mix; minced lamb; or cheeses such as halloumi and mozzarella."
As part of a launch promotion, free sachets of a za'atar herbs mix, made with dried thyme, sesame seeds, salt and sumac, will be included with the first 20,000 Paninette pizza base packets with instructions on how to make Manakeesh.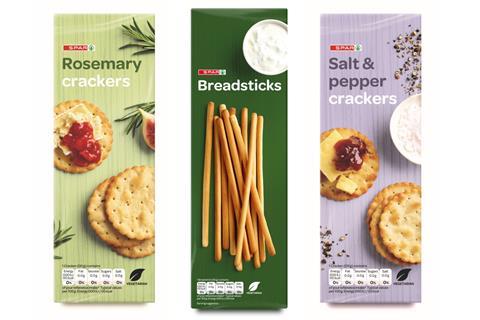 Savoury biscuits trio, Spar
Spar is entering the savoury biscuit market with the launch of three new lines for its own label range.
The new line-up comprises breadsticks, salt & pepper crackers, and rosemary crackers, all with an rsp of £1 per pack. The launch will be supported by in-store POS, merchandising and social media.
"Biscuits add a huge contribution to store sales, and we know this move into own label savoury snacking biscuits represents a new opportunity for Spar stores," said Bhavika Thakrar, Spar UK Senior brand manager.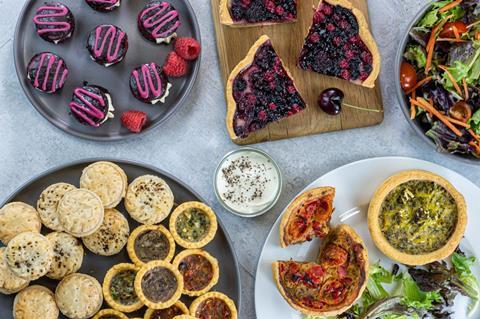 Vegan tarts, Frank Dale
Frank Dale is tapping into the plant-based trend with three new additions to its vegan range.
On the savoury side, there's the Spring Vegetable & Mature Cheese Tart which features broccoli, pea and mint in a British oat-based custard encased in a stone baked British oat and pea flour pastry topped with tasty mature vegan cheese.
For something sweet, its created Vegan Mini Chocolate & Raspberry Cakes which are made up of chocolate and avocado sponges filled with a plant-based cream and topped with pink icing. There's also the Vegan Woodland Berry & Sable Crust Tart which sees a sable pastry case filled with vanilla custard topped with cherries, blackberries, redcurrants, and blueberries.
Frank Dale originally catered solely for professional chefs but developed a direct-to-consumer proposition as a result of the pandemic.
"With the vegan sector rapidly increasing in popularity, we have increased our plant-based offering from three to six savoury and sweet dishes," said managing director Ed Miles.
"The reality is that vegan meals can be expensive as well as time consuming to prepare from scratch at home, our newest products make it easy for our customers to enjoy the benefits of a vegan diet, delivering a selection of cost effective, convenient and most importantly delicious solutions to suit a variety of eating occasions."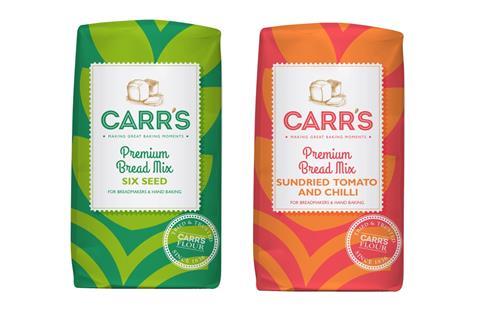 Bread mixes, Carr's Flour
Carr's Flour is tapping into the home baking boom with a new range of bread mixes.
Kicking things off is the family-friendly Carr's Kids Bread Mix, which produces either a family-sized loaf or rolls, and Carr's Kids Biscuit Mix, made with a blend of white and brown flour.
To accompany the baking mixes, Carr's Flour is also launching a kids collectables range which includes measuring cups and cookie cutters as well as a branded mini baking kit complete with rolling pin, spatula, pastry brush and cutting board.
For the adults, there's the Six Seed Mix – which contains sunflower seeds, wheat flakes, pumpkin seeds, linseed, poppy seeds and malted barley – as well as Malted Grain, which features malted wheat for added fibre. Rounding off the trio is the Sundried Tomato & Chilli Mix.