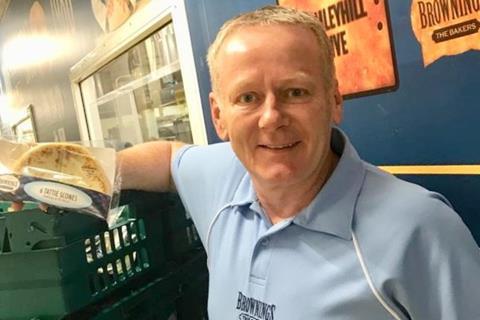 Kilmarnock-based Brownings the Bakers says it is all set for growth, after announcing a new deal to supply 59 M&S food outlets across Scotland with tattie scones.
The craft baker now supplies all the big retailers' Scottish stores, with 22 products listed at 90 Scottish Aldi stores, and products in the six Scottish Waitrose and also in Scottish Asda, Tesco, Morrisons and Sainsbury's stores and a wide range of symbol stores and independents, said MD John Gall.
The new listing M&S for its tattie (potato) scones, priced at £1.15 for a pack of six, follows a recent listing with Asda in Scotland to supply its Kilmarnock Pie to 46 stores across Scotland.
Gall said he has not looked back since he was awarded the Baking Industry Award Baker of the Year accolade in 2003, which brought him to the attention of Aldi.
Since then the company's turnover has risen from £1m to £9million in the last financial year.
A separate pie factory was opened in 2008 and in 2014, Brownings invested £1.5m extending its bakery, more than doubling the size.
Gall said the third generation family business is set for continued growth: "We have capacity to easily go to turnover of £13 or £14 million, we keep getting bigger and bigger, if my grandfather could only see the size of the business now."
The coronavirus lockdown had let to a few worrying weeks, with the range produced cut back from 150 products to 60, he said. The range was now slowly being expanded and sales were booming.
He commented: "The lockdown was an eye opener for everyone, not just bakery businesses, it was a good opportunity to take stock, so now as we return products to the range we are looking at cost and making sure they are the right ones."
Brownings, which also operates six of its own bakery shops was established in 1945 by Gall's grandparents.
The company employs 190 people across the bakery, office, transport and stores, making it one of the largest traditional craft bakeries in Scotland.