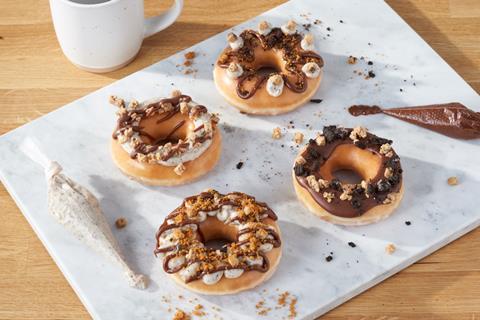 Decadent traybakes, buttery gluten-free shortbread, caramelised biscuit-based puddings and deep filled doughnuts are among the latest sweet treats to hit shelves.
Finsbury Food Group has partnered with TGI Fridays for its latest piece of NPD while Krispy Kreme, Walker's Shortbread, Gü and McVitie's have rolled out new twists on their products.
Below, we round up our top picks and take a look at Thomas Fudge's packaging redesign.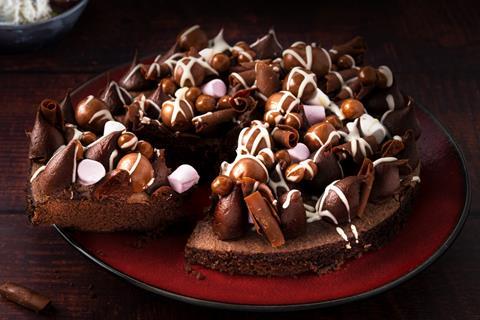 TGI Fridays traybakes, Finsbury Food Group
Finsbury Food Group has got that Friday feeling after partnering with restaurant chain TGI Fridays on two new traybake desserts.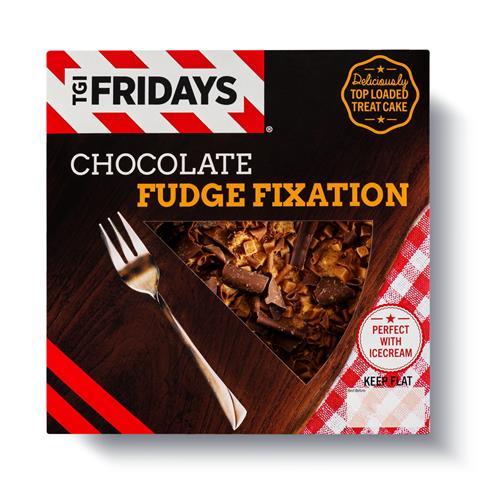 Chocolate Fudge Fixation is described as a moist chocolate sponge topped with a fudge buttercream swirl and decorated with Belgian milk chocolate and caramel flavour curls. A Chocolate Rocky Road traybake featuring the same sponge and a Belgian milk chocolate ganache frosting sprinkled with chocolate coated biscuit balls, marshmallows, chocolate curls and a white chocolate flavoured drizzle has also been released.
The seven-inch traybakes, which serve eight people, are available in Tesco now (rsp: £4) and will roll out across Asda and Morrisons from the summer.
"We're incredibly enthusiastic about the launch with TGI Fridays, and already see huge opportunity to continue to add more exciting desserts in the future," said Jordan McCann, brand manager for Finsbury Food Group.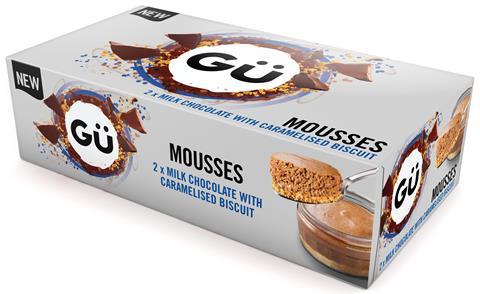 Mousse with a biscuit base, Gü
Chilled dessert brand Gü is gearing up to launch a Milk Chocolate Mousse with Caramelised Biscuit.
The brand claimed the NPD was "inspired by the traditional French delicacy of accompanying chocolate mousse with a small biscuit".
"[It] is the first of its kind in the UK market, with a biscuit layer underneath the mousse," said Amy Heap, Gü marketing director.
The NPD goes on sale in a two-pack format on 10 May, (rsp: £3.40, 2x70g) and is being supported by social and digital marketing activity.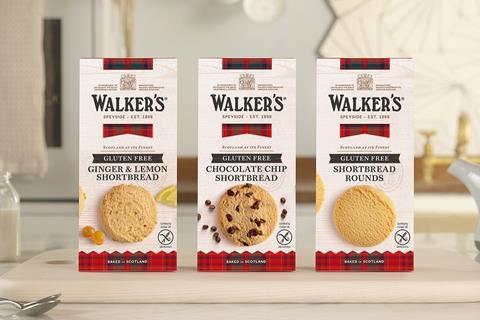 Flavoured gluten-free shortbread, Walker's Shortbread
The shortbread specialist has added a trio of flavours to its gluten-free range.
Shortbread Rounds, Chocolate Chip Shortbread and Ginger & Lemon Shortbread are available exclusively in Sainsbury's (rsp: £2.50/140g). The biscuits, which have been certified by the Coeliac Society, are being sold in a redesigned box that features Walker's "iconic tartan" and prominently showcases the brand's logo and Royal Warrant.
"We are delighted that they [Walker's] have taken the very positive and encouraging step in ensuring their manufacturing process is independently audited, and products are independently accredited gluten-free, which enables them to use the Crossed Grain symbol on packaging providing added reassurance to the coeliac community," said Michael Brown, director of commercial services at Coeliac UK.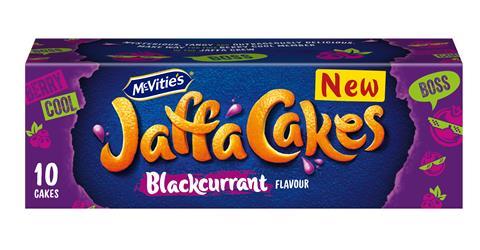 Blackcurrant Jaffa Cakes, McVitie's
Pladis-owned McVitie's has added a fifth variant to its Jaffa Cake line-up.
Described as 'tangy', the latest Blackcurrant flavour joins the Original Orange, Playful Pineapple, Cheeky Cherry and Party Passion Fruit selection.
"We're excited to continue to bring new tastes and experiences to Jaffanatics and can't wait for everyone to try this new fruity, cool berry flavour," said Emma Stowers, brand director for McVitie's at Pladis UK&I.
Available exclusively in Tesco, the NPD is available in packs of 10 (rsp: £1.20).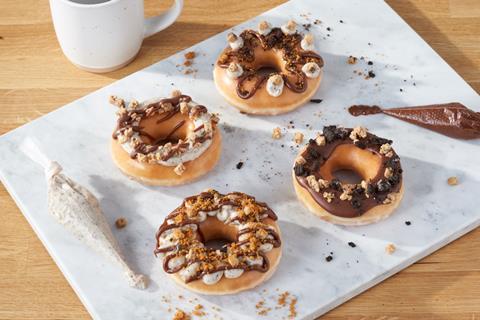 Cookie doughnuts, Krispy Kreme
Krispy Kreme has combined cookies and doughnuts for its latest limited-edition range – Cookie Cravings.
On sale until 15 May, the NPD comprises two flavours: Cookie Dough – decorated with dark cookie crumb, choc chip pieces and filled with cookie dough – and Cookies & Kreme, the brand's signature ring doughnut finished with a vanilla cookie cream frosting topped with cookie crumb. Both flavours retail for rsp: £2.25.
The doughnut maker has also launched a Cookie Cravings Creation Kit (rsp: £14.95) comprising four original glazed ring doughnuts and all the ingredients for budding bakers to create their own versions at home.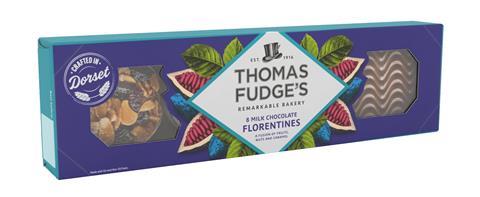 Packaging revamp, Thomas Fudge's
Burton's Biscuit Co's has given its Thomas Fudge's bakery brand a sleek facelift.
The redesigned packaging features bolder colours, a cutaway window to reveal the product, and aims to highlight the florentine-maker's artisan heritage with a 'crafted in Dorset' stamp.
"The premium sector is one of the fastest-growing in the biscuit category as rising numbers of consumers are seeking indulgence delivered by provenance, high-quality ingredients and engaging textures," said Kate Needham, Burton's Biscuit Co marketing director.
The redesigned Florentines packs are available now, while the new look will roll out across Thomas Fudge's savoury range later this month.