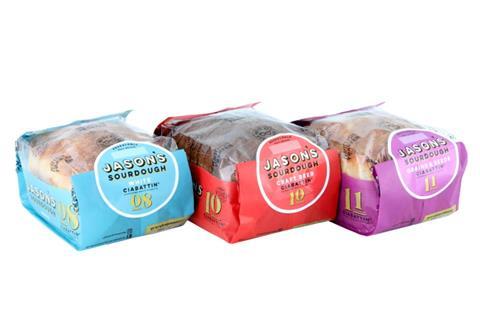 Geary's Bakery has refreshed its Jason's brand with a new name and branding in a move which it said reinforces its sourdough credentials and heritage.
Previously called Jason's followed by the tagline 'Baked with Love', the three-strong range has been rebranded as Jason's Sourdough. It first rolled out in M&S stores earlier this year, with an rsp of £1.80 per loaf.
The 'Ciabattin' loaves – described as a classic ciabatta mashed up with a sourdough process – come in three variants: White, Grains & Seeds and Craft Beer. They are baked using a 24-hour fermentation process which Geary's said is typical of small batch sourdough loaves. This ensures it has 'full flavour' without the need for added preservatives, sugars or additives, it added.
Alongside the new name, the range also has updated packaging. Described as 'punchier' and 'modern', the refreshed branding showcases the family bakery's history and each loaf has a recipe number, adapted from the family's recipe book as well.
The new packaging also features a transparent window and is resealable. It also highlights how Geary's recommends consumers enjoy the loaves with the line 'perfect for your toaster'.
"We are delighted to be re-launching with new modern and striking packaging that really highlights the bread in its best light and showcases what we are all about – great tasting, properly made sourdough," said Jason Geary, master baker and managing director of Geary's – who the loaves are named after.
"Jason's Sourdough is really special, each 'Ciabattin' loaf is baked with a commitment to quality, time and patience and is a result of my personal passion to baking bread the right, time honoured way to deliver amazing taste. We are all really proud of this product and can't wait to see the new packaging on the shelves."