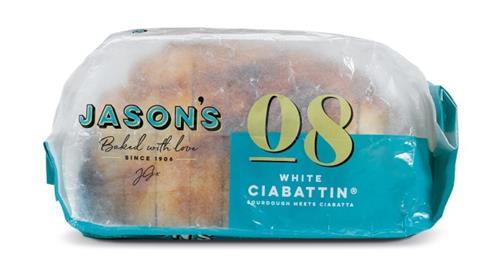 Geary's Bakery has rolled out its first-ever branded range of loaves, called Jason's.
Named after Geary's master baker and fourth generation to head up the business, the range is made up of three 'ciabattin' loaves, which the bakery describes as a classic ciabatta mashed up with a sourdough process, baked in a tin and sliced. All three are available in Marks & Spencer (M&S) with an rsp of £1.80.
A sourdough culture is used to create the three different variants – White Ciabattin, Grains & Seeds Ciabattin, and Craft Beer Ciabattin using Vixen Copper Ale from Charnwood Brewery.
The loaves are made using a 24-hour fermentation process, which Geary's said ensured a rich flavour without the need for added sugars, preservatives or additives.
The packaging is made from glassine paper, which the company said was "reminiscent of proper bakery bread" and resealable.
"My entire life has been about bread and baking. Even from the age of 10, I would get home from school and bake with my grandfather, so I'm proud to be able to put all my experience, all my passion and, of course, my name to this unique sourdough ciabattin," said MD Jason Geary.
"I'd like people to be able to experience the wonderful taste of quality 'proper' bread with no additives, just wholesome ingredients. It's great for many occasions, but unbeatable as toast."
Geary's Bakery is ramping up its growth following a major investment by the Unsworth family – founders of Aimia Foods.
To find out more about the business and its history, read our feature: 'Born & Bread: Geary's Bakery, Leicestershire'.