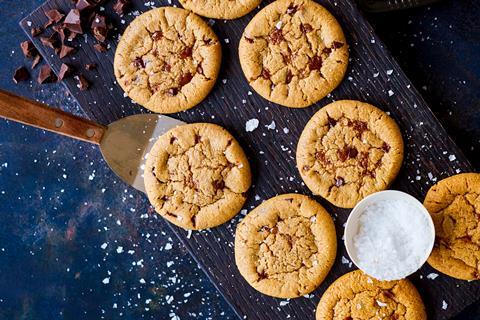 A plethora of new free-from sweet and savoury bakery items has been unveiled.
There's vegan slices and pies, vegan cookies and gluten-free bread all designed to tempt consumers no matter their dietary requirements.
We round up some of the latest NPD to hit shelves: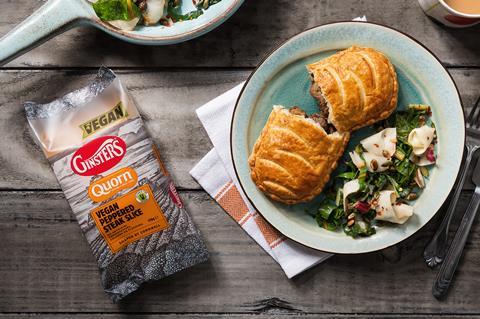 Vegan Peppered Steak Slice, Ginsters and Quorn
Ginsters has joined forces with Quorn again to launch a vegan-friendly version of its top-selling Peppered Steak Slice.
Available in stores this week (rsp: £1.70/170g), the co-branded Vegan Peppered Steak Slice combines marinated Quorn pieces with onions and Cornish sourced potatoes in a classic peppercorn sauce, made using a blend of peppercorns, garlic and Dijon mustard. The filling is wrapped in a light puff pastry and finished with coconut milk.
The NPD is the third collaboration between the brands which also produce a Vegan Quorn Pasty and a Vegan Quorn Sausage Roll.
"Launching meat-free alternatives of our core ranges is critical to driving trial; consumers want to try meat free and are more inspired to do so with a flavour they know and love like our Peppered Steak Slice. It's part of how we can evolve the category," said Ginsters managing director Kieran Hemsworth.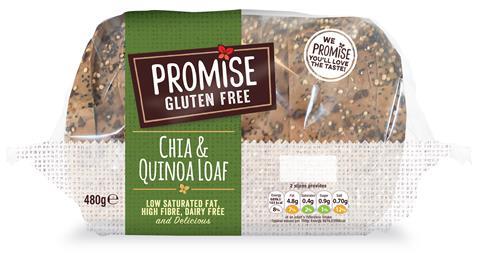 Chia & Quinoa Loaf, Promise Gluten Free
Promise Gluten Free has rolled out three new gluten-free breads in response to burgeoning demand.
The products, available in Sainsbury's, Ocado and directly from the brand, comprise a Multigrain Loaf (rsp £3), Chia & Quinoa Loaf (rsp £3), and a Soft White Sourdough Baguette (rsp £2.80).
The business's Vegan White Rolls and Multigrain Rolls are also now available in a four-pack format (rsp £2.80).
"Given the increasing consumer appetite for healthy and gluten-free options, it's fantastic to be able to deliver a bakery range that ticks all the boxes at a time when health and nutrition is high on the agenda," Nick Fox, the company's UK commercial director said.
"The Promise Gluten Free range packs a real nutrient punch, tastes great and has a fantastic texture, that you might expect from traditional bakery products."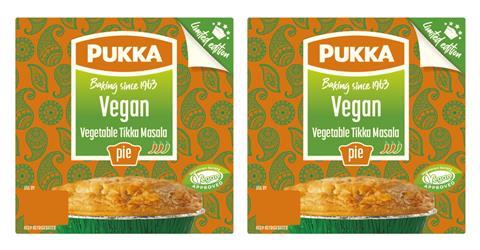 Vegan Vegetable Tikka Masala Pie, Pukka
As part of its National Curry Week celebrations, which runs from 7-13 October, Pukka has created a Vegan Vegetable Tikka Masala Pie.
It comes complete with The Vegetarian Society's stamp of approval and is packed with chickpeas, spinach and other vegetables in an aromatic tikka masala sauce wrapped in 144 layers of Pukka's signature puff pastry. The chilled pie is available in Morrisons for an rsp of £1.89 until 27 October.
It follows Pukka's foray into the vegan market for the first-time last month with a duo of pies in Vegan Chicken & Mushroom and Vegan Minced Steak & Onion variants.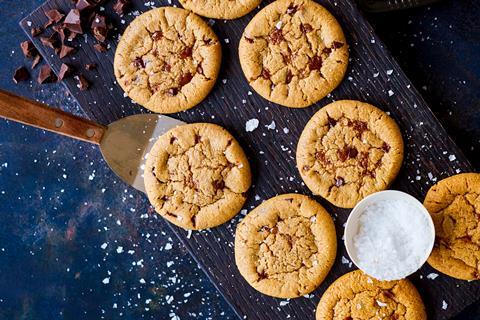 Dark Chocolate & Salted Caramel Cookie Dough, Doughlicious
Doughlicious has scored its first listing with M&S for its ready-to-bake gluten-free cookie dough in 500 stores.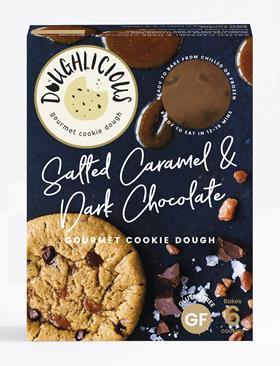 The cookies, available in Dark Chocolate & Salted Caramel and Vegan Double Chocolate (rsp: £3) flavours, are sold chilled but can be baked from chilled or frozen and are ready-to-eat in 14-16 minutes.
Made from gluten-free oat flour and sweetened with unrefined cane sugar, the product is aimed at those seeking a 'stress free' home baking experience with each batch shaped into individual dough balls to help promote portion control and minimise food waste.
"M&S has always been my go-to for quality, innovative and delicious food so I am incredibly proud to see Doughlicious on the shelves," said founder Kathryn Bricken.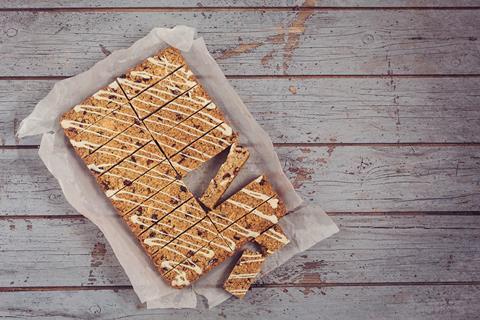 Cranberry, Orange & White Chocolate Flapjack, Ginger Bakers
The Lake District-based company has added a sixth variant to its gluten-free handmade traybake range.
The Cranberry, Orange & White Chocolate flapjack comprises sticky cranberries, orange zest, and white chocolate chunks.
It joins the firm's existing boxed line-up, which features a gluten-free chocolate brownie, caramel shortbread, ginger Jake – a chewy traybake with oats and a hint of ginger – lemon & polenta and chocolate Nancy. Each traybake contains four individually wrapped gluten-free cakes (rsp £3.50 per box).
"Around one in 100 people suffer with coeliac disease in the UK and many more suffer with some form of gluten intolerance," said Lisa Smith founder and owner of Ginger Bakers.
"Cakes are a treat designed to bring a little joy and shouldn't be about worrying whether or not you can eat them which is why we took the decision to create a range of cakes and bakes that simply everyone could enjoy without having to worry."
Bake-at-Home Choc Chip Cookies, Pep Kitchen
Pep Kitchen, a London-based vegan ready meal business, has added a bake-at-home vegan chocolate chip cookie to its range.
The balls of dough, which are sold frozen, are available in a pack of six for £5 via home delivery. They take 10 minutes to bake in the oven and are made with vegan chocolate chips, margarine and soya milk as well as flour, sugar, baking powder and corn flour.
"These might not be for every day, and are a little bit of indulgence, but demonstrate that, when made correctly, vegan or frozen food doesn't have to be a compromise in any way," said Pep Kitchen co-founder Ben MacAndrews.