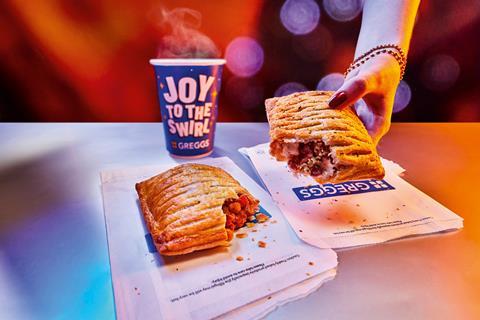 Greggs has unveiled its menu for Christmas this year headlined by a return of the fan favourite Festive Bake plus a vegan-friendly alternative.
The firm also announced plans to host its first ever series of retro-style music parties at three venues across the UK in the coming weeks.
Available now in Greggs shops nationwide priced from £1.95, the Festive Bake comprises crumb-topped pastry filled with chicken pieces, sweetcure bacon, sage & onion stuffing, and a creamy sage & cranberry sauce.
For those looking for a plant-based option, the Spicy Vegetable Curry Bake (from £1.95) is made with mixed vegetables, chickpeas and rice in a curry sauce with added chillies for an extra kick, wrapped up in glazed puff pastry. Spicy and Indian flavours were previously embraced in its veg-led Autumn menu introductions.
Other new bakery items making their debuts at Greggs over the holiday season include the Christmas Lunch Baguette (from £3.70) – stuffed with chicken breast, Sweetcure bacon, sage & onion, onion gravy, Cheddar cheese and a cranberry & onion relish – and the Chocolate Orange Muffin (from £1.40).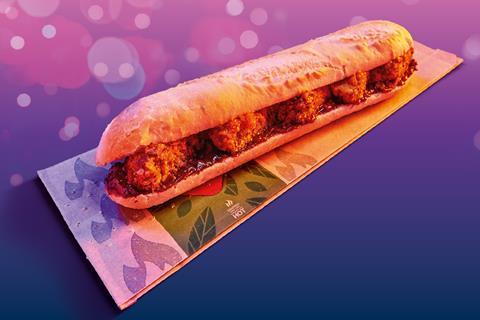 Meanwhile, the Vegan Festive Baguette (from £3.70) is back this year, switching out the traditional meats for plant-based goujons. On the sweet side, there's the vegan-friendly Sweet Mince Pie (from 65p each or £2.15 for a pack of six), which follows a traditional recipe of shortcrust pastry filled with a sweet mincemeat of vine fruits, Bramley apple, candied orange and lemon peel, finished with a light dusting of icing sugar. There's also the Christmas Star Biscuit (from £1.15), the Christmas Tree Biscuit (from £1.15), Christmas Shortbread Bites (from £1.70), and Christmas Novelty Buns (from 95p each or £3 for a pack of four).
Greggs recently marked the Festive Bake's return with a 3D light show conducted by drones above its Gosforth bakery in Newcastle (see Instagram video below). The 10-minute display, said to have taken up an area of the sky measuring more than twice the size of the London Eye, saw drones forming various classic bakery products including a sausage roll and a Sugar Strand doughnut, before the grand finale had a Festive Bake emerging from a paper bag.
In addition to its Christmas menu launch, the high street brand announced a three-part series of throwback music parties entitled "Greggs presents: The Festive Rewind". The Engine Works in Glasgow will host an '80s-themed night on 30 November featuring special guest Martin Kemp, a '90s-themed night with Hedkandi is set for Secret Space Digbeth in Birmingham on 8 December, while H and Claire from Steps will star at the '00s music at London's Protein Studios on 15 December.
Hunsnet founder Gareth Howells will play mixes of Christmas hits and nostalgic anthems at each of the 150-minute-long shows, with attendees also enjoying festive-themed cocktails and pizza slices. A link to tickets goes live on Greggs' socials from 10am on 17 November, with the £10 booking fee refunded upon attendance.