Pleesecakes, Dr Oetker, Vale of Mowbray and Higgidy have unveiled an array of savoury creations including a cheeseburger cheesecake, vegan pizza and flavoured pork pies.
Here's our round-up of hot picks.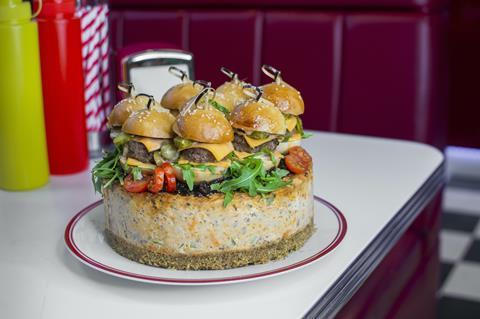 Pleesecakes
Pleesecakes is targeting dads ahead of Father's Day with its 'most controversial' product to date – a Cheeseburger Cheesecake.
Dubbed the 'Pleeseburger', the quirky creation is said to have a quiche-like texture and burger taste. Its buttery base is formed from crushed oatcakes, crisps and fried onion, topped with a cream cheese filling of minced beef, bacon, pickles, Red Leicester, BBQ sauce, onions, garlic, paprika, chilli and mixed herbs. It is topped with a layer of caramelised onion chutney and eight homemade mini burgers. The Pleeseburger is available from 30 June (rsp: £42/serving 10-12 people).
The Redhill-based brand is no stranger to producing eye-popping cheesecakes, whipping up a Notorious Pigs in Blanket savoury flavour at Christmas.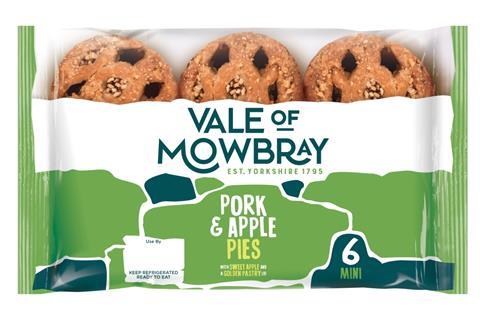 Vale of Mowbray
Vale of Mowbray has added three new flavours to its pork pie line-up.
The Pork & Apple and Pork, Cheese & Pickle flavours are available in 'mini' pack formats priced at £2 per six-pack. A medium-sized Pork & Caramelised Onion Pie featuring a lattice lid has also been launched and costs £2.
The NPD comes as the pie maker unveils a modern yet established new look after undergoing the biggest rebrand in the company's 200-year history. The branding and packaging design, created by Leeds-based Chilli, uses a 1920s art-deco-style font and provides a nod to when pie production began at the Vale of Mowbray factory in 1928, while the dry-stone wall plays on the brand's Yorkshire heritage.
"The three new flavours are hitting selected stores as we speak, and the new packaging will be on shelves across Morrison's, Iceland, Tesco, Sainsburys, Asda and Co-op," Mark Gatenby, Vale of Mowbray MD, said.
"This rebrand and launch of innovative flavours is a big step towards an exciting future for Vale of Mowbray. I am confident that as we remain fully tuned in to the demands of the modern consumer, that our fresh new branding, exciting flavours and NPD and our plans to launch environmentally friendly packaging that we can revolutionise the ready-made pork pie industry."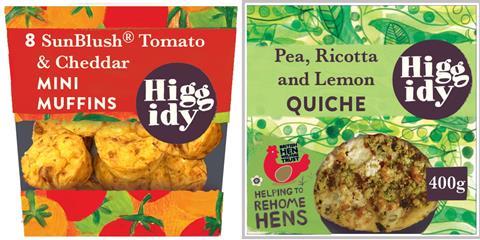 Higgidy
Higgidy has embraced all things veggie with two new products: SunBlush Tomato & Cheddar Mini Muffins are stocked in Waitrose and Sainsbury's (rsp:£3), while its Mediterranean Pepper & Feta Quiche is available in Sainsbury's (rsp: £2.30).
The brand's Pea, Ricotta & Lemon Quiche and Spring Garden Vegetable Pie have also made a return for 2021, due to 'popular demand'.
"Veggies don't have to be bland and boring, so we've made sure that each product is packed full of vibrant veg and is bursting with flavour to encourage more people, whether they're veggie or not, to enjoy vegetables in their diet," Camilla Stephens, Higgidy co-founder said.
The company has partnered with the British Hen Welfare Trust to donate £8,000 from the sale of its Pea, Lemon & Ricotta Quiche to help re-home 2,000 hens.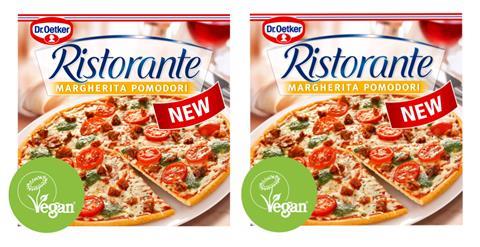 Dr Oetker
Dr Oetker Ristorante has rolled out its first vegan pizza in the UK.
The Italian-inspired Ristorante Margherita Pomodori (rsp: £3.69) uses the brand's signature thin and crispy base and features a tomato sauce, melted pizza topping made from a base of coconut oil and basil, as well as sundried and cherry tomatoes.
Certified by the Vegan Society, the frozen pizza is ready to eat within 10-12 minutes.
"To achieve the same fantastic quality and taste that we hold ourselves to across our product portfolio, our development team worked extremely hard to perfect a grated pizza topping that's delicious and satisfyingly melting, providing the perfect balance with our signature thin and crispy base," said Josephine Skinner, Dr. Oetker senior brand manager.