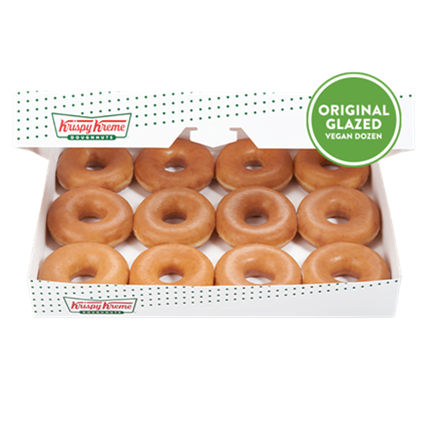 Krispy Kreme has unveiled its first-ever vegan doughnut ahead of Veganuary 2021.
The new product is a vegan-friendly version of its Original Glazed doughnut, which the firm describes as having the 'same great taste, light and fluffy doughnut texture and signature glaze' but with no eggs or dairy – making it suitable for vegans.
Krispy Kreme's Original Glazed doughnut was first created in 1937 and comprises a ring doughnut covered in a sweet glaze.
Sold via the dozen, the Original Glazed Vegan doughnuts will be available as an online exclusive priced at £10.45 plus delivery. They're available for pre-order now with delivery from 5 January across the UK.
"We are excited to extend our range of iconic irresistibly original doughnuts with the launch of our first ever vegan offering, available exclusively in the UK," said Louise Direito, head of innovation at Krispy Kreme UK and Ireland.
"We know January is a time that many are trying out new lifestyles and set ourselves the challenge to create a plant-based doughnut that is equally delicious as the original, with absolutely no compromise."
The company's stores remain open for takeaway and click & collect, with cabinets also available in an array of UK supermarkets.