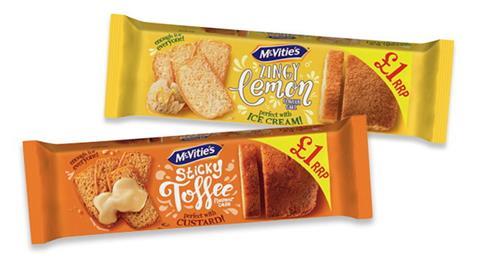 Pladis-owned McVitie's has expanded its sharing cake range following a 54% jump in demand due to the coronavirus lockdown.
The company has introduced two larger-format loaf cakes, in Zingy Lemon (238g) and Sticky Toffee (200g) variants. Available in convenience stores from this month, the cakes have an rsp of £1.
Cakes have become a shopping basket essential for British consumers during the coronavirus pandemic, according the McVitie's.
"The current circumstances mean shoppers have been spending far more time than usual in their own homes," explained McVitie's marketing head Claire Hooper.
"This has led to households of all shapes and sizes making more of mealtimes – whether that's swapping a pre-made sandwich for beans on toast, cooking the evening meal from scratch, or indulging in a post-meal pudding."
The sharing cakes market is currently worth £259m and growing by 8.2%, according to data firm Nielsen (four weeks ending 2 May).
"McVitie's sharing cakes provide an opportunity for families or households to sit down and enjoy time together.The recent surge in popularity for McVitie's whole cakes, which have grown by 54% in the last four weeks, suggests shoppers are doing exactly that," added Hooper.
Other sharing cakes in the range include its Jamaica Ginger Cake and Original Lyle's Golden Syrup Cake. A Rich Chocolate variant will join the range later this year.