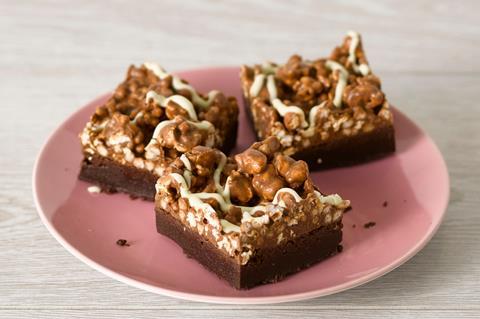 Boob-shaped muffins and popcorn-topped chocolate brownies are among the latest products to hit the UK bakery scene.
Speedibake, CSM Bakery Solutions and Délifrance, alongside others, have unveiled a host of sweet and savoury baked goods for the retail and foodservice sectors this month.
We've rounded up some of our favourite new launches below: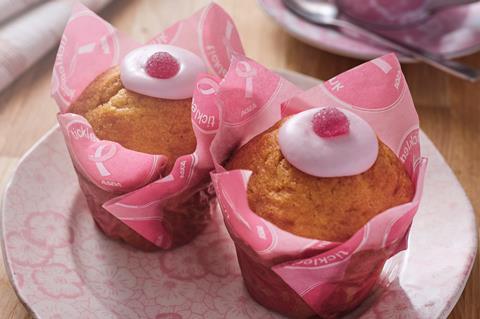 Raspberry Muffins, Speedibake and Asda
Yorkshire bakery Speedibake has teamed up with Asda to launch raspberry flavoured muffins that look like a pair of boobs.
The NPD was created for the retailer's Tickled Pink campaign, which supports the work of two breast cancer charities.
The muffins are filled with raspberry jam, coated with pink icing and topped with a jelly dot sweet. They're available in a pack of two (rsp: £1/200g) from the supermarket's in-store bakeries and wrapped in packaging which urges women to check their breasts for changes.
"We're really pleased to support the brilliant work of the Asda's Tickled Pink campaign this year for the first time," added Kate Robinson, NPD and innovation manager at Speedibake.
"We did have some fun with the muffins to make them look like a pair of boobs, but the product does have a serious message to help raise consumers' awareness to be breast aware."
Speedibake will donate to charities Breast Cancer Now and CoppaFeel! for every pack sold.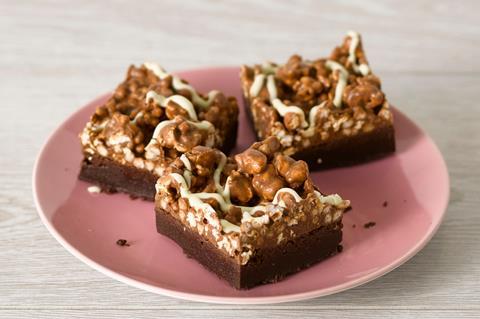 Popcorn brownie, CSM Bakery Solutions
CSM Bakery Solutions has extended its tray bake range with a premium Popcorn Brownie.
An addition to its Baker & Baker brand, the brownie is topped with milk and dark chocolate, popcorn and a white chocolate drizzle. It joins the chocolate brownie, tiffin, rocky road, caramel shortcake, granola and flapjack as part of the range.
The Popcorn Brownie is free from palm oil and made with free range eggs. Available in individual portions, it is thawed and ready to serve within 90 to 120 minutes and will remain fresh on shelf for up to seven days.
It taps into the trend for 'loaded' tray bakes and demand for multi-textured bakery products, said the firm.
"With the brownie being primarily trend-led, we know that it will be a hit with customers. It meets the desire to consume premium products at home across different occasions," added Holly Wales, traditional trade activation manager at CSM.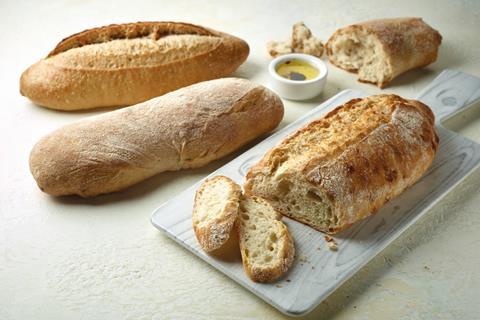 Speciality breads, Country Choice
Country Choice has launched a trio of specialty breads – a sourdough bloomer (£20/pack of 12), a 310g West Country farmhouse Cheddar cheese bloomer (£20/pack of 12) and a hand-stretched 285g ciabatta loaf (£22/pack of 13).
Made from a mother dough starter, the sourdough variant goes through a slow proving process to produce a 'delicate sour flavour and a soft crumb texture', the brand said.
Its cheddar cheese bloomer is described as soft, aerated with a 'flavoursome crumb and a natural burst in its crust'.
The ready-to-bake ciabatta loaf, made with Italian extra virgin olive oil, is hand-stretched, turned, and then shaped into a slipper shape before being baked on a stone surface resulting in a 'waxy crumb and crisp crust'.
All three loaves have a shelf life of one day once baked.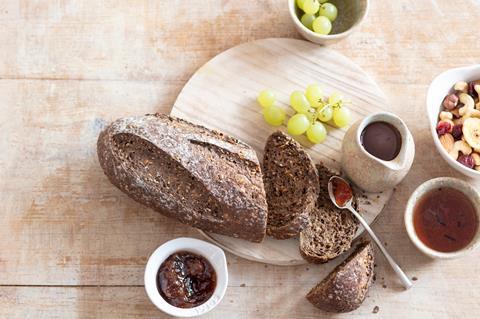 Nordic Loaf, Délifrance
Délifrance has developed a seeded Nordic Loaf with a crunchy crust. Made from wheat, rye and barley flour, the bread also contains sunflower, linseed and sesame seeds.
The brand claims one slice of the 70g loaf has as much protein as 70g of cooked lentils, as much omega-3 as walnuts and is a source of minerals including zinc and magnesium.
"As the wellness trend continues, it's essential operators respond," said Stéphanie Brillouet, marketing director for Northern Europe and North America at Délifrance.
"Consumers want to see fresh, traditional breads that offer a premium and authentic experience, as well as nutritious ingredients. That's why we've developed our Nordic Loaf. A cleaner, healthier bread that delivers an extraordinary and guilt-free sensory experience."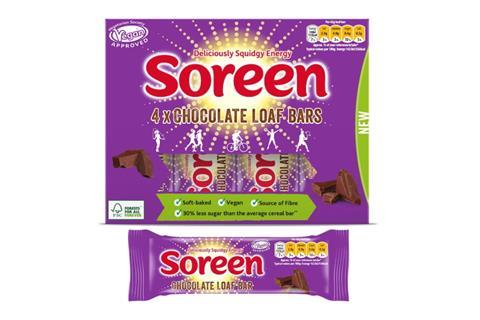 Chocolate malt loaf, Soreen
Malt loaf brand Soreen has added a vegan chocolate flavour to its plant-based malt loaf line-up. Sold as part of a multipack of four, the product joins the existing banana and malt variants.
"Veganism has been a key trend within the food industry for the last few years now, so we're immensely proud to bring a vegan, plant-based chocolate product to market that retains that flavoursome, treat like taste without being high in sugar or fat – important for a healthy and nutritious diet," said Bethan Brown, marketing director at Soreen.