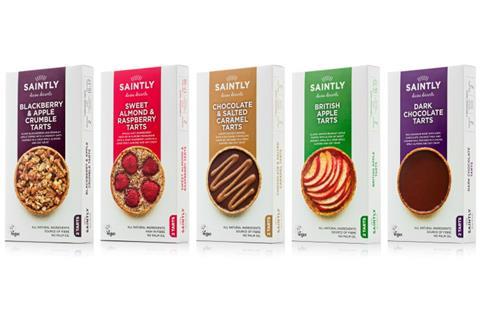 Cambridge-based Saintly Foods has launched its frozen tarts range in new-look packaging.
The packaging is plastic-free, fully recyclable, made from sustainable card and printed with vegetable-based inks.
It features a new design that focuses on the look of each dessert and has clear front-of-pack messaging about their Vegan Society-approved status.
The Divine Desserts range comprises Blackberry & Apple Crumble Tarts; Sweet Almond & Raspberry Tarts; Chocolate & Salted Caramel Tarts; British Apple Tarts and Dark Chocolate Tarts. Each pack contains two tarts at an rsp of £4.99.
Saintly Foods has seen a surge in interest following the increase in frozen food sales in response to the coronavirus pandemic and the plant-based foods boom, said the firm.
"We offer consumers a healthy alternative to the traditional over-processed frozen dessert, but with absolutely no compromise on the taste experience," said Vanessa McNiven, founder of Saintly Foods.
The focus for ingredients is to adhere to British or local provenance, and any imported ingredients, such as coconut oil and coconut milk, should be from certified sustainable sources, she added.
Launched last year, the brand targets the 'conscious consumer' and offers all-natural sweet treats, which are ethically sourced and produced without artificial additives, preservatives, palm oil, dairy or animal-based ingredients.
"Our products are made with the highest-quality natural ingredients, creating a decadent dessert with a long shelf-life without the inclusion of preservatives, emulsifiers or stabilisers. The collection of sumptuous dessert options represents a guilt-free purchase – successfully delivering convenience but not at the expense of quality nutrition and exceptional flavour."