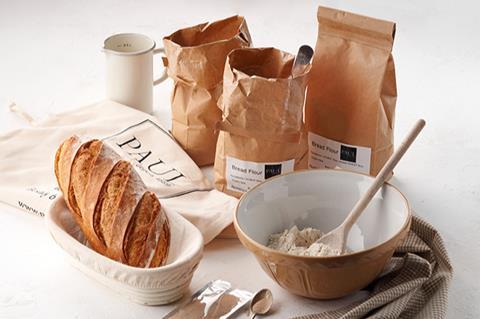 Paul UK is rolling out nationwide delivery of its bread-baking kits and product bundles under a range called Paul At Home.
It features eight bundles – including two bread kits, jams collection and coffee and hot chocolate kit – all of which are available for next day delivery across mainland UK as of Friday 11 September.
The bread-making kit, priced at £33, contains 500g strong white bread flour, 15g active dried yeast, a bread proving basket, a Paul cotton sac a pain for keeping bread fresh, a dough scraper, and recipe booklet. The larger bread kit includes rolled oats, 1kg of strong white bread flour and 1kg of multigrain bread flour for £38.
"We are thrilled to be launching our 'at Home' range and expanding our delivery operation UK-wide," said Paul UK CEO Mark Hilton.
"Artisan freshly baked bread is synonymous with the Paul brand so launching with a bread-making kit was a no brainer. The plan is to expand the range further with new items scheduled to be released later this year and into 2021."
Paul UK is also expanding its delivery service across Greater London with a next day delivery service (when ordered by 12 noon) across Zones 1 and 2, and a newly launched range available on Amazon Fresh, which is available in most parts of London, Surrey and Hertfordshire.
The bakery, which has 38 shops nationwide, has diversified its product portfolio in recent months. In April it started selling own branded fresh yeast and flour for the first time, and, in June, it introduced a range of celebration cakes for home delivery and click-and-collect.