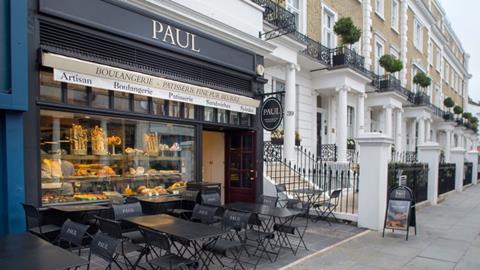 Bakery Paul UK has reopened more of its shops in London and, for the first time ever, is selling its own branded fresh yeast and flour.
This week, stores in Holland Park, South Kensington and Hammersmith reopened, following Canary Wharf, Hampstead, Marble Arch and Wimbledon, which reopened earlier this month. Sites in Chelsea, Earls Court and Islington are also scheduled to open on 27 April.
NHS workers, care workers, the elderly and disabled customers will be prioritised, according to the company, which said safety was "of paramount importance" and social distancing would be maintained.
Staff at the shops will wear PPE at all times with handwashing and surface sanitising stepped up to take place every 10 minutes. In addition, all seating has been removed, transactions are cashless, and the use of reusable cups has been paused.
"We took the careful decision to responsibly open some of our stores to extend our delivery miles and give access to those who can't get to the supermarkets easily. We've put new processes in place and stepped up our already stringent hygiene measures. Our team members have returned on an opt-in volunteer basis – nobody feeling uncomfortable needs to come back – and the free coffees for NHS workers is a small token of our huge appreciation," said Mark Hilton, CEO of Paul UK.
The shops are open daily from 8am until 2pm for take-away, serving freshly baked loaves, baguettes, pastries, Viennoiserie and hot drinks. Baked goods are available for delivery via Deliveroo and Uber Eats.
Paul Strong White Bread Flour is also being sold in 1kg bags for £2.00 and Paul Fresh Yeast is available at 50p for 50g.
The move comes amid a shortage of retail-sized bags of flour, which has resulted in some shoppers being unable to buy in the supermarkets. The National Association of British and Irish Millers (Nabim) has created an online map showing the public where they can get hold of flour.