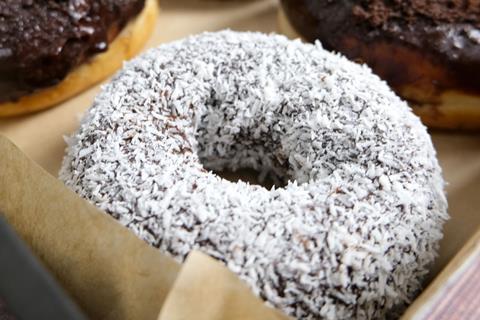 The UK weather has been unseasonably chilly, but a flurry of NPD may warm the cockles.
From indulgent cookies and biscuit-topped doughnuts to sweet petits fours, vegan caramel and liquorice-laced brownies, there's plenty to choose from.
Savoury products, too, have also hit shelves. Think gluten-free, square-shaped sandwich rolls and brioche and microwaveable hot pies.
Below, we round up some of April's hot picks.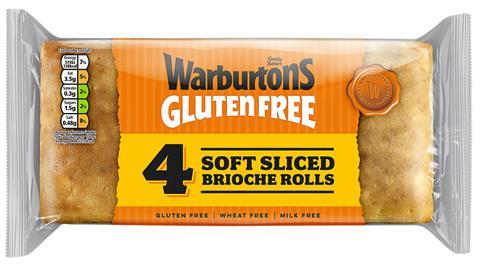 Gluten-free rolls, Warburtons
Warburtons has added two new square-shaped sandwich rolls to its gluten-free range on the back of the success of its Gluten-Free Toastie debut in 2020.
Super Soft Sliced Square Rolls and Soft Sliced Brioche Rolls are aimed at picnic, BBQ or lunchbox occasions and can hold 'substantial fillings'. The NPD underlines the brand's commitment to the free-from market, Chris Hook, Warburton's free from director said.
"We definitely think we are on a 'square' roll with these new products being added to our gluten-free range. It is important to us to be able to bring excitement and innovation to the free from bakery category and provide consumers with a range of delicious products that cater to changing tastes and trends," he added.
Both rolls are currently available from Co-Op (rsp: £2.50) and the squares will also be available in Sainsbury's and Tesco shortly.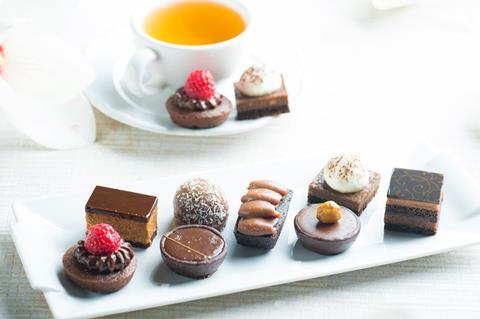 French Chocolate Petits Fours, Tipiak
For those seeking delicate treats, French pâtissier Tipiak has the answer. Aimed at the UK foodservice market, its new range of French Chocolate Petits Fours is a 'thaw and serve' collection featuring 42 individual pieces and eight different flavours.
Products include chocolate and feuilletine squares, chocolate and hazelnut tartlets, chocolate, mascarpone & coffee squares, caramel & chocolate tartlets, a Tonka flavoured financier, milk chocolate & coconut shortbreads and hazelnut & chocolate fingers.
"The beauty of petits fours is that they can be served in a variety of ways – as part of an afternoon tea, with a coffee as a café gourmand, to round off a meal, or as part of a trio or selection of mini desserts," Marie-Emmanuelle Chessé, Tipiak's international development project manager, said.
The new range is available to UK foodservice professionals via frozen food distributor Central Foods.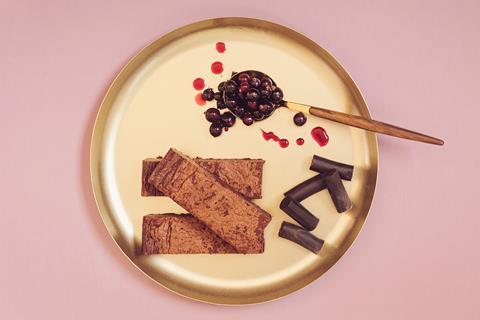 Blackcurrant & Liquorice Brownie, Ginger Bakers
Ginger Bakers have breathed life into the humble brownie with a blackcurrant & liquorice variant.
The bake forms part of the brand's April monthly Cake Club subscription box service. The Cumbria-based bakery said it was inspired to create the quirky flavour by Liquorice Day, which took place on 12 April.
Ginger Bakers launched its curated Cake Club box service in December. It gives subscribers a choice of either four tray bake portions, a sponge loaf cake or a fruit cake delivered direct to their door each month. Membership options are a three-month subscription (£35), six months (£70) or a year (£135, working out at £11.25 a month).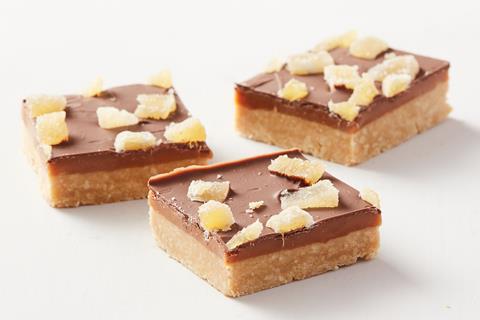 Vegan caramel, British Bakels
Over at British Bakels, a Vegan Caramel PF which professes to offer all the 'indulgent qualities' associated with a traditional millionaire's caramel has been created.
Sporting an 'incredibly smooth' texture, the palm oil-free ingredient is available through national and regional bakery wholesalers in a 12.5kg format.
"Caramel is a hugely popular taste right now and coupled with the surge in the popularity of plant-based lifestyles, Vegan Caramel PF strikes the sweet spot for bakers looking to incorporate both into their confectionery range, without compromise on taste," British Bakels marketing manager Michael Schofield, said.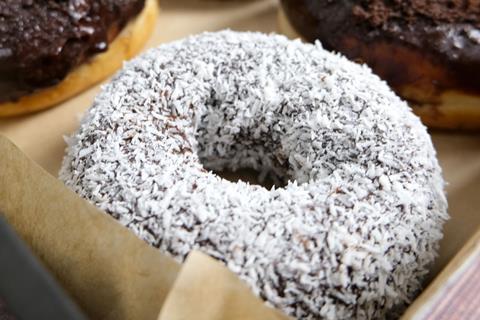 Anzac Day doughnuts, Crosstown Doughnuts
Crosstown Doughnuts, too, has gained inspiration from the diary with its Tim Tam and Lamnut doughnuts making a return for Anzac Day (25 April), the national day of remembrance for Australia and New Zealand.
The Tim Tam features Crosstown's cocoa sourdough filled with a Tim Tam chocolate custard, a Tim Tam milk chocolate ganache and chopped Tim Tam pieces. The lamington doughnut, also known as the Lamnut) comprises a Crosstown cake dough with a layer of homemade raspberry jam through the middle. It is dipped in dark chocolate and rolled in desiccated coconut.
"We've shipped in a mountain of ingredients for these fan-favourite doughnuts, ready to give our fellow Aussies and Kiwis a taste of home during the ANZAC Day commemorations," said Crosstown co-founder Adam Wills.
The Anzac Day flavours will be available exclusively across Crosstown's London and Cambridge stores, individually (£4.50) or as a pack of six and twelve (£22/38) from the 19- 25 April. Customers in the rest of England, Wales and lowland Scotland will also be able to order a mixed six or twelve pack of Lamington and classic Dark Chocolate Truffle doughnuts (£27.50/£48).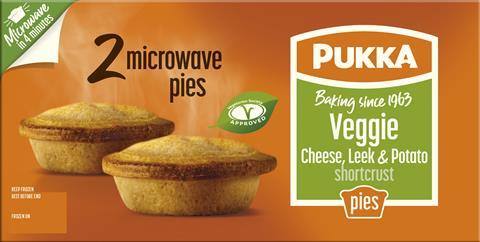 Microwavable pies, Pukka
Over at hot pie brand Pukka, savoury tastes are being catered for with a new Veggie Cheese, Leek & Potato Microwaveable Twin Pack into Morrisons.
Cooked from frozen, and ready-to-eat in four minutes, the product is made with diced leeks and potatoes in a creamy, Cheddar sauce and encased in shortcrust pastry.
"With a retail sales value of £3.3 million, our chilled Veggie Cheese, Leek & Potato pie is the bestselling vegetarian sku in the category," said Rachel Cranston, Pukka head of marketing and Innovation. "People are falling back in love with their freezers and growth in the frozen food category is up 17% so it was the natural next step to offer shoppers the same tasty recipe in frozen, that they can heat and eat straight from the freezer."
The pie will roll out across multiple retailers including Iceland from May (rsp: £2.75 per twin pack).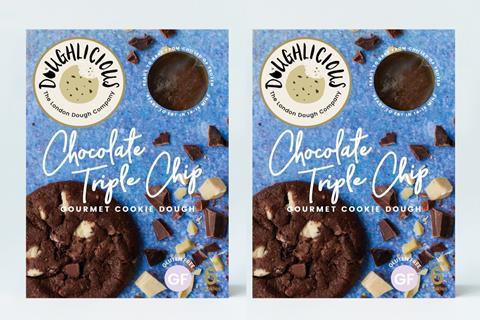 Chocolate Triple Chip Cookie Dough, Doughlicious
Cookie-monsters take note. Doughlicious is launching a Chocolate Triple Chip Ready-to-bake Cookie Dough exclusively in 217 nationwide Waitrose stores later this month (rsp: £2.99).
Made from a blend of Luker Chocolate's sustainable, single-origin Colombian dark, and white and milk chocolate chips, the gluten-free treat has 'chocolatey power in every gooey bite', according to the brand.
Each pack contains six ball-shaped portions which are baked from frozen and ready-to-eat in 14-18 minutes. Chocolate Chip and Vegan Cranberry Oatmeal variants will also be stocked in Waitrose from 19 April.
Doughlicious founder, Kathryn Bricken, said baking continued to be hugely popular, but "many people don't have the time to fuss with all the ingredients". "Demand for our cookie dough is ever-growing, so it's fantastic to be able to offer our customers another way to purchase our products, whilst also attracting a whole new group of Waitrose consumers," she said.