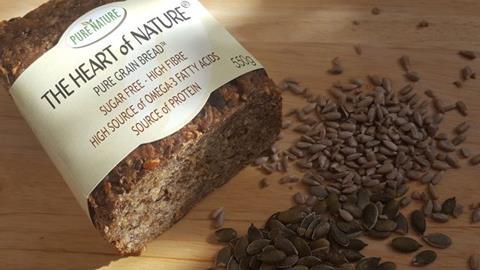 Pure Grain Bread founder Robert Sak has partnered with TV Dragon Deborah Meaden after appearing on last night's episode of Dragons' Den.
Pure Grain Bread, sold under the Heart of Nature brand, was set up by Sak three years ago in London. Since its inception, the business has grown to a turnover of more than £500,000 a year.
The company's breads contain whole grains, 'super seeds' and fruits, and the entire range is wheat- and gluten-free and suitable for vegans. Its Organic GF Original Pure Grain Rolls (rsp £2.49 for four), for example, lists its ingredients as water, gluten-free oat flakes, sunflower seed, brown linseed, golden linseed, rapeseed oil, pumpkin seed, millet seed, psyllium fibre, milled brown linseed, apple cider vinegar and Himalayan salt.
During his appearance on the BBC Two show last night (11 November), Sak accepted Meaden's £40,000 offer for a 20% stake in the business.
"I am absolutely delighted to be working with Deborah! I went into the Den hoping to meet somebody with great experience in scaling the business, somebody with contacts in the market I operate in and, at the same time, someone who would recognise and share my passion and vision for the products," said Sak.
"It was an invaluable, fantastic experience."
Meaden said she, too, was delighted. "The free-from and vegan food sector has been growing steadily and Heart of Nature's Pure Grain Bread is as free-from as you can get! However, being really good for you is not enough, the product needs to look and taste great, which this does," added Meaden.