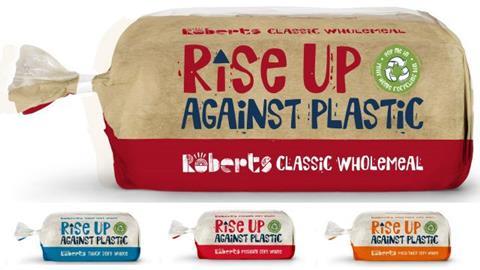 Roberts Bakery is launching paper packaging on its core 800g loaf range.
Rolling out to 300 Tesco stores in the north west and Midlands from next week, the bags are made from sustainably sourced paper with a thin polyprop coating.
This enables the loaves to carry the 'widely-recycled' logo from the On-Pack Recycling Label scheme, according to Roberts, which claimed it is the first bread brand to be awarded this.
Although the plastic on much of the wrapped bread sold in the UK is recyclable, few local authorities collect it as part of kerbside services. Instead, consumers need to take it to a recycling point, often found at supermarkets, to be recycled alongside carrier bags.
The roll-out of paper packaging on the 800g core range – Thick Soft White, Mega-Thick Soft White, Medium Soft White and Classic Wholemeal – follows the launch of the packaging on Roberts' bloomer loaves last year.
Roberts is aiming to eventually switch to plastic-free packaging across all SKUs and in all stockists.
"When we introduced our Bloomer range in easily recyclable at home packaging in September, we highlighted our strategy to act rather than pledge – to become plastic-free as soon as we can," said Roberts managing director Stuart Spencer-Calnan.
"We intend that, by moving our core range out of polyethylene and into this new, much more sustainable packaging, it will kick-start a wider roll-out for even more products and with more stockist partners."
Roberts is backing the roll-out of the new packaging with a multi-channel marketing push, including in-store media and on-shelf POS, alongside offline advertising, media and influencer outreach.