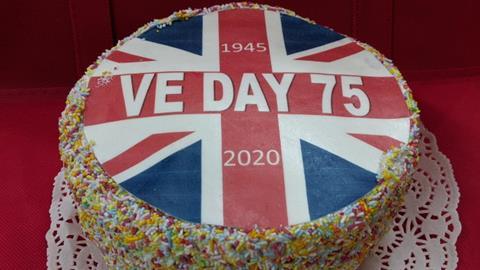 Derbyshire-based Stacey's Bakery has rolled out a cake to celebrate Victory in Europe (VE) Day tomorrow (8 May).
The six-inch cake (£6) consists of plain sponge, vanilla buttercream frosting and coloured sprinkles, decorated with a union flag and the message 'VE Day 75 1945-2020'.
Stacey's Bakery in in Ilkeston is supporting service personnel, with £2 from every sale being donated to the Royal British Legion charity.
The bakery is also selling VE Day cupcakes for £1.50. Both cakes are available online and in-store.
Managing director David Stacey is a fourth-generation baker and great-grandson of the firm's founder Guy Stacey, who was a soldier.
"My great-grandfather was invalided out of the army in the First World War and became the family's first baker. We are extremely proud of our country's servicemen and women and this is our way of showing our appreciation for their sacrifice," said Stacey.
"With the current coronavirus epidemic going on, people may not be able to mark the occasion with as grand a gesture as they would have liked. But at least with this cake they can celebrate at home."
Morrisons has also rolled out afternoon tea boxes to celebrate VE Day.