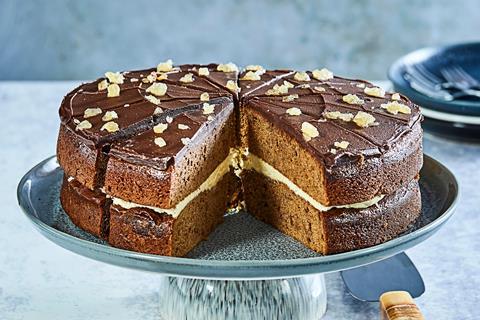 Carrot-based biscuits, Choccie Dodgers, choc ginger biscuit bars and mini beignets are among the latest sweet bakery products to hit the scene.
The NPD taps into several trends including consumer demand for healthier sweet treats, on-the-go snacking or simply guilt-free indulgence.
Here we've rounded up the latest new launches: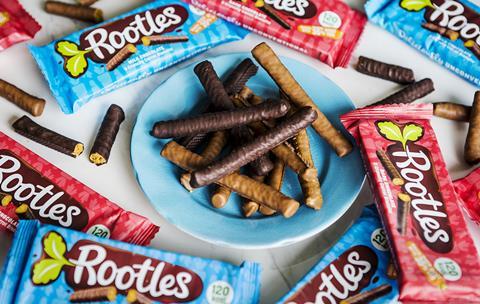 Rootles
A chocolate-covered biscuit made with more than 35% vegetables has been launched to tap into demand for healthier snacking.
Called Rootles, the biscuits' ingredients include carrot and sweet potato. They're sold in packs of three with dark chocolate and milk chocolate variants available with an rsp of £1-£1.20.
The brand was developed by Helen Yates, who co-runs Luke Evans Bakery in Derbyshire with her husband, David. She was inspired to develop the product through her work mentoring and supporting international business students at the University of Nottingham. The concept of using veg in biscuits was developed as a market research project, which sparked her interest in the idea.
Later, Yates received funded support from Mission Ventures and the Good Food Fund.
The biscuits are currently made in North Macedonia to a recipe that has been developed over many months. They have a shelf life of at least seven months once delivered.
"The Covid pandemic has led to a greater focus on health and Rootles are the perfect product for guilt-free snacking, as they are high fibre and contain just 120 calories per pack – fewer than many other snack bars," said Yates, who described their taste as like a traditional chocolate biscuit.
"Veg has been added to cakes for a long time but we've taken the concept a stage further and developed biscuit bars using root vegetables," she added.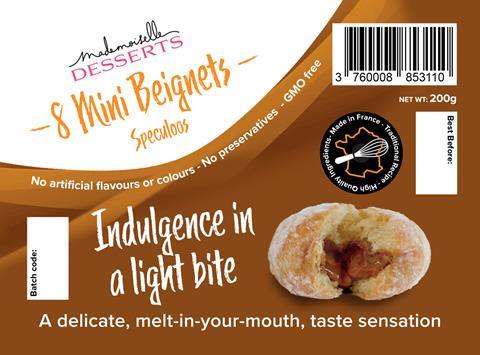 Mini Beignets, Mademoiselle Desserts
Mademoiselle Desserts has launched its signature filled French Mini Beignets into the UK retail market with listings in Spar stores across Scotland.
The products, which represent the first retail launch for the bakery manufacturer in the UK, come in three different flavours – chocolate & hazelnut, speculoos and double choc. Made from eggs, butter and baker's yeast, the leavened dough is then fried in oil, filled, and sprinkled with icing sugar.
They're being positioned by Mademoiselle as a premium but permissible alternative to doughnuts.
"Our Mini Beignets are a real delicacy with their indulgent fillings but their bite-size, along with the top quality ingredients, make them much healthier than usual doughnuts for both adults and kids," said Gareth Jones, commercial director, Mademoiselle Desserts UK Group.
"Data has shown a strong increase in snacking since the first lockdown as people working from home are looking for multiple occasions to break their daily routine and reward themselves but also getting more opportunities to enjoy sweet breaks with their kids. This is leading to a growing need for smaller formats and multipacks, particularly in the sweet bakery arena," Jones added.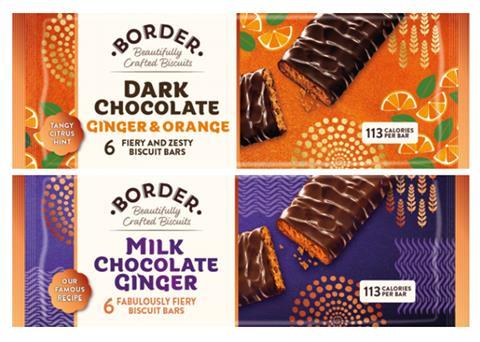 Chocolate Ginger Bars, Border Biscuits
Border Biscuits is extending its portfolio with four new products, including Milk Chocolate Ginger Bars and Dark Chocolate Ginger & Orange Bars.
The bars build on the success of its Dark Chocolate Ginger Bars, which were launched in 2020.
Border is also rolling out Snack Packs, comprising twin individually wrapped mini packs for on-the-go snacking. Rounding off the new launches is a Luxury Chocolate Sharing Pack which features two brand new varieties in the form of Dark Chocolate Raspberry and Milk Chocolate Salted Caramel. The new flavours are joined by the brand's Dark Chocolate Gingers, Light & Chocolatey Viennese Whirls and Milk Chocolate Shortbread Rings.
It comes as the manufacturer strengthens its business through a 'landmark partnership' with Sainsbury's which will see it more than double its presence across the retailer's estate. Border's retail range will now be stocked in almost 1,400 of the supermarket stores with listings for its NPD as well as existing products such as Dark Chocolate Gingers, Lemon Drizzle Melts and Light & Chocolatey Viennese Whirls.
"With snack brands dominating new product development last year, our own innovation pipeline has been key in the expansion of this brilliant partnership with Sainsbury's," said Alex Sano-Davies, head of grocery, at Border Biscuits. "Driven by the needs of modern consumers, the range further cements Border Biscuits as a genuine category innovator, while placing us one step closer to achieving our ambitious growth targets for 2021 and beyond."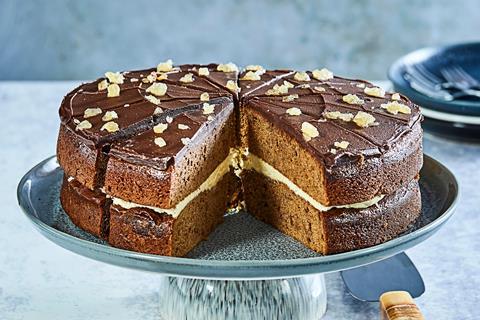 Caterer-inspired cakes, Country Range
Foodservice brand Country Range has boosted its dessert offering with four new treats for autumn.
Dubbed 'the fab four', the new line-up comprises:
Rhubarb & Custard Tart: a sweet pastry filled with tangy rhubarb and dairy custard topped with vanilla sponge and an oaty crumble
Chocolate & Ginger Cake: a gluten free spiced ginger cake with a chocolate icing, topped with a chocolate ganache and crystallised stem ginger
Plum & Almond Slice: plum compote on sweet pastry baked with almond sponge and finished with plums and flaked almonds
Pear & Maple Slice: poached pears baked with a vanilla sponge and dulce de leche drizzled with maple syrup.
"Perfect for kitchens lacking the time and space to create their own cakes in-house, these four fab desserts are sure to be hit with caterers due to their great flavour and speedy preparation," said Kate Bancroft, Country Range group marketing manager.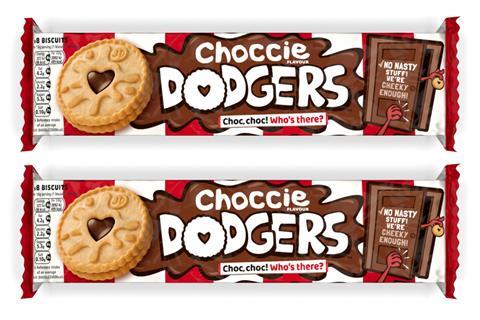 Choccie Dodgers, Burton's Biscuit Co
Forget the jam in Jammie Dodgers as Burton's Biscuit Co is rolling out a new variant in the form of Choccie Dodgers.
The NPD sees the brand's biscuits filled with a chocolate flavoured cream instead of jam. They're available in Tesco and Sainsbury's stores with an rsp of 50p per 140g pack and will roll out across grocery and impulse channels shortly.
The latest launch is reflective of Burton's focus on investing in its stable of British biscuits and making them relevant to today's shoppers and fit for the future, the business said.
"A 4% growth in spend across chocolate biscuits from Jammie Dodgers shoppers highlights the desire for chocolate offerings from our consumers," said Kate Needham, Burton's marketing director. "We expect growth to come from brand loyalists buying Choccie Dodgers and, more importantly, from consumers who are new to the Dodgers brand trading up from everyday biscuits."
Jammie Dodgers amassed £24.4m in sales last year [Nielsen 52 w/e 22 May 2021] and recently became vegan-friendly.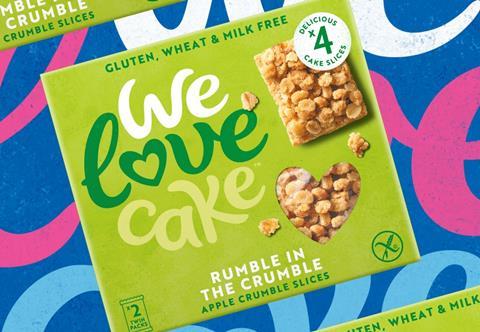 Apple Crumble Slices, Bells of Lazonby
Bells of Lazonby has added to its We Love Cake range with gluten-, wheat- and milk-free 'Rumble in the Crumble' Apple Crumble Slices.
The slices are sold in multipacks of four and are available in Waitrose with an rsp of £1.80 per pack. The vegan snacks are baked in small batches and hand finished at the We Love Cake bakery in Lazonby at the edge of the Lake District, Cumbria.
"We Love Cake has had a fantastic 12 months of growth in the UK and overseas, and it is exciting to launch a third line into Waitrose," said head of brand and marketing, Josh Boydell-Smith. "We have a huge pipeline of innovation that's set to come to market over the next 12 months as we aim to be the number one sweet bakery brand in free from over the next five years."
The business said We Love Cake has seen huge success and growth overseas in the Australian market. In the last 12 months the brand has focused on driving listings and sales in the UK, targeting the multiples with new skus. Last Autumn, Rip-Roaring Raspberry Ripple and Totally Toffee Sticky Toffee variants rolled out in Waitrose and Morrisons stores.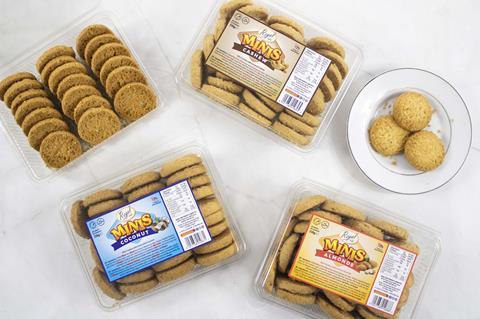 Minis range, Regal Bakery
Regal Bakery has launched a new selection of bite-sized cookies as part of its snacking range.
Sold in 350g cartons, the cookies come in six variants: Coconut Minis, Almond Minis, Cashew Minis, Nan Khatie Minis (shortcake biscuit), Pistachio Minis, and Zeera Minis (made with cumin seeds).
The business said the new range was launched following an increased demand for its existing snacking range. The Minis are available in grocery retailers with an rsp of £1.69.