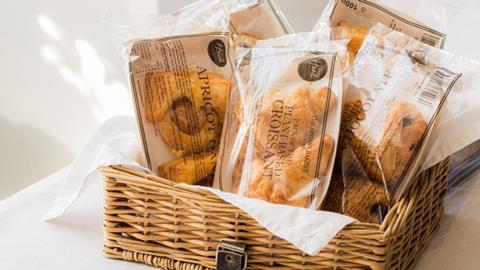 West London's The Artisan Bakery has rolled out eco-friendly packaging for its consumer-facing range.
As a result of the Covid-19 pandemic, the bakery's customer base has changed from mainly supplying cafés and restaurants – where goods can be delivered without packaging – to direct-to-consumer sales where it is required, it explained.
The new packaging consists of a film and tray, which is plant fibre-based – made from eucalyptus pulp that comes from certified forests, said The Artisan Bakery. This, it added, made the packaging recyclable, as well as home and industrially compostable.
Its baked goods, which include croissants and pains au chocolat, are supplied to Co-op stores across London, via delivery service Milk & More and Amazon Fresh. These will be supplied with the new packaging and will be used for other clients when they reopen.
"While hygiene and the safety of our customers is paramount at this time, we feel proud to be able to buck the trend of other food companies upping cheaper, non-compostable plastic consumption in response to Covid-19," said Andrew Murray, managing director of The Artisan Bakery.