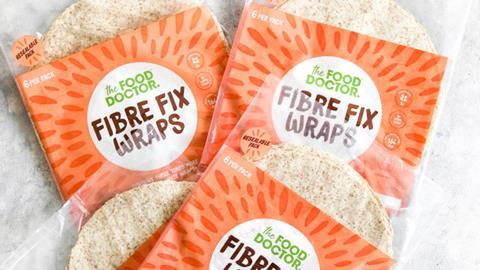 The Food Doctor has launched a high-fibre wrap targeted at health-conscious consumers.
The wrap, which has three times the fibre and half the salt of regular white wraps, according to The Food Doctor, roll out exclusively in Tesco this week.
Each Fibre Fix Wrap contains 6g of fibre, 4.8g of protein and 164 calories.
The launch follows the release of The Food Doctor's Super Seed Bagels that, like all of the nutrition specialist's products, are high in fibre.
"We have worked with our fantastic team of nutritionists and dieticians to create the Fibre Fix wraps which give people another way to get extra fibre into their diets," said David Balmer, managing director of The Food Doctor.
"They have no added sugar, no palm oil, are vegan friendly and come in re-sealable packaging."
The Food Doctor Fibre Fix Wraps have an rsp of £1.50 for a six-pack but are being introduced at £1.20.
Also taping into the demand for high-fibre products, Hovis rolled out a high-fibre loaf last week.