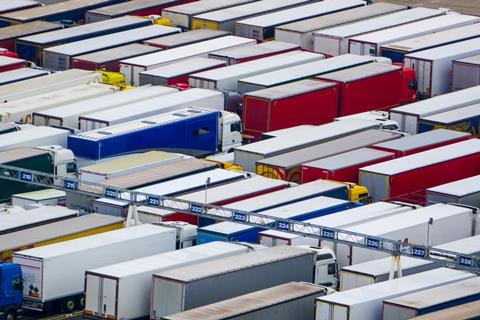 Imported dried foods destined for the UK bakery industry are stuck in ports due to the shortfall in HGV drivers, according to EHL Ingredients.
The driver shortage, which the Road Haulage Association (RHA) believes is due to the 'perfect storm' of the post-Brexit visa system and Covid-19, is currently affecting the whole food industry supply chain. Tasneem Alonzo, joint managing director of EHL, told British Baker that the company's pallets of dried herbs and spices, flours, seeds, nuts and dried fruits have been affected by the delays.
"Craft, high street and industrial bakeries are affected too, and it won't be long until this affects supermarket shelves, in-store bakeries and bakery retailers," Alonzo warned.
On Wednesday, the RHA wrote to prime minister Boris Johnson to sound the alarm over the worsening situation for the food supply chain. "Empty shelves are already becoming apparent and, if not urgently addressed, the situation will only get worse," said Richard Burnett, RHA chief executive.
However, the Federation of Bakers (FoB), which represents the UK's largest plant bakeries, insisted that the driver shortage is not affecting the distribution of bread and baked goods at present and is not likely to have a significant impact in the near future.
"Most of our members will have their own vehicles and drivers and are less lightly to be impacted," Gordon Polson, FoB chief executive, told British Baker.
However, Polson added that he was aware of suppliers using third-party hauliers who have experienced some issues. "Like everyone else we will be keeping a close eye on the situation," he said.
Meanwhile, Alonzo is urging bakeries and buyers to allow added time for the delivery of ingredients. "Next day now means three to four days' time so planning is essential at the moment," she said.
The EHL joint managing director also warned of a knock-on effect on the price of goods somewhere down the line.
"Prices are stable at the moment, but we can expect to see a rise in costs in the near future, as haulage companies are increasing salaries to attract more applicants for haulier roles," Alonzo said. "Driver shortages are driving up haulage costs, which have to be passed on somewhere down the line. These costs may be passed on to consumers in the end who may see their shopping bills increase in price."