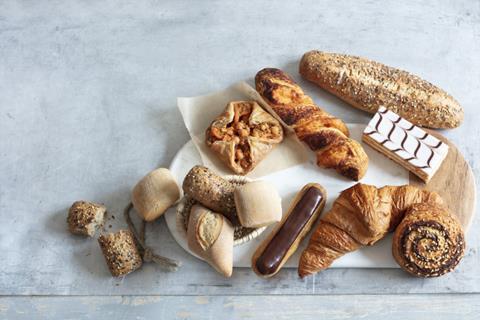 Bakeries could be losing out on sales by not offering a wide enough range of products to meet dietary needs, particularly those relating to allergens, a new report by Délifrance has revealed.
Called 'Prove it: adapting bakery to meet the needs of hypersensitive consumers', the report highlights how food operators could improve their services to better cater to shoppers with allergies – also known as food hypersensitive (FHS) consumers.
Notably, it found that 52% of consumers won't buy anything or go elsewhere if they can't find the bakery product they want while just under a third (31%) said they'd buy a bakery item that 'will do'.
The research comes less than two months after the introduction of Natasha's Law which requires a label with the full ingredients list to be placed on all pre-packed for sale food.
More than two million people in the UK have a diagnosed food allergy. However, the report notes, many still engage with the bakery category. Seventy-five per cent of those surveyed still eat bread, while 74% are partial to sweet treats such as brownies, cakes, and doughnuts. When it comes to where shoppers buy their baked goods, 92% choose supermarkets, 52% bakeries, 39% coffee shops or cafes, 30% independent shop or convenience store and 25% get theirs from restaurants.
However, many believe improvements could be made with regards to signage highlighting allergen friendly products, better labelling, segregating products with allergens and more choice. A fifth (22%) of supermarket shoppers wanted better staff knowledge on ingredients – a number which rose to 27% in bakeries and 31% in restaurants.
"It's clear these consumers love their baked goods, representing a big opportunity for food operators. They just need to be reassured that their products are produced and kept separate from those containing allergens. Unsurprisingly, they don't want to compromise on taste and choice either," said Stéphanie Brillouet, marketing director at Délifrance which has been working to remove allergens from its manufacturing sites and product portfolio.
She added that when it comes to NPD, consumers want products with fewer ingredients but with added nutritional benefits – such as seeds and nuts. However, this can pose challenges. "This has been challenging for us, given our careful approach to segregating allergens – and in some cases, we've had to reintroduce nuts onto our production lines and sites – walnuts in our breads for example. Peanuts, however, remain forbidden across the group," Brillouet said.
Jacqui McPeake, consultant for Food Allergy Aware who contributed to the report, said businesses should consider adapting recipes to meet a range of dietary needs.
"FHS consumers expect continuous improvements in the range of products for dietary needs," she said. "If recipes can be easily adapted to suit gluten free or milk free and cater to the increasing vegan/vegetarian market, this is always a positive way forward.
"Where possible, operators should ensure dishes are suitable for a range of options e.g., the main course can be naturally gluten free (no need to thicken with flour) or the vegetarian dish can be vegan to support egg free and milk free diets. Offer alternatives on the menu and communicate with the customer honestly and provide accurate information."