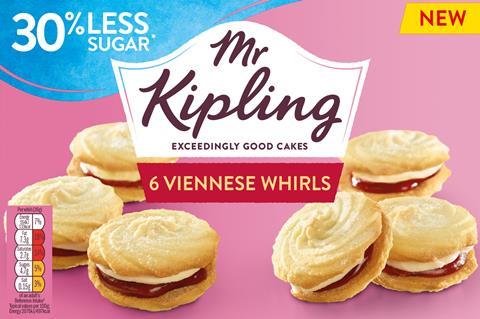 Mr Kipling owner Premier Foods is aiming to double sales of products that meet 'high nutritional standards' as part of a newly launched corporate strategy.
The group's 'Enriching Life Plan' also sets out the target of achieving net zero within operations by 2040, increasing plant-based sales to £250m by 2030, and implementing 100% recyclable, reusable or compostable packaging by 2025.
A further 'pillar' of the strategy involves tackling food poverty through the donation of one million meals and more than 1,000 volunteering days each year. The group has also committed to establishing a dedicated science, technology, engineering and maths (STEM) talent development programme, as well as expanding its apprenticeship schemes and on-the-job training.
Premier Foods' efforts in tackling climate change will see the company join the Business Ambition for 1.5 degrees and set 'science-based targets' to achieve a 42% reduction in greenhouse gas emissions within its direct operations by 2030.
The pledge to double the amount of food that meets high nutritional standards will involve 'ensuring more than half of products deliver additional health and nutritional benefits', the company added.
"Our key focus continues to be encouraging healthy eating," said Alex Whitehouse, CEO of Premier Foods. "We produce and market some of the nation's favourite brands, bought by millions every day. This gives us a powerful opportunity to use these brands to help consumers choose new healthier options, more plant-based options, and options that are more sustainable and contribute to a less wasteful world."
While insisting that Premier Foods' corporate responsibility efforts had made "very good progress" in the last few years, Whitehouse added that it was "now time to push ourselves harder; harder for the health of our consumers, and harder for the health of our planet".
The launch of the Enriching Life Plan follows Premier Foods' appointment of Nick Brown as director of environmental, social and governance (ESG) in August.