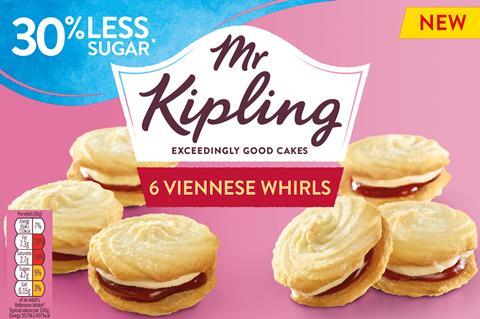 Premier Foods CEO Alex Whitehouse insisted the group is "firmly on track" to deliver on full year expectations despite revenue and profits falling in H1.
Half year results for the 26 weeks up to 2 October 2021 showed sales of £394.1m, representing a 6.5% drop on the corresponding period for the previous year. Trading profit also fell, down 12.2% at £57.8m.
However, the first half results for FY21/22 compare much more favourably with pre-pandemic figures from two years ago, with revenue and trading profit up 7.5% and 13.1% respectively.
"We have delivered a very good first half performance, with revenue growth ahead of expectations," said Whitehouse. "Quarter two was particularly strong, with revenue growth up 8.5% versus two years ago," the CEO added.
Premier Foods' sweet treats business delivered revenue growth of 7.1% in the H1 period compared with two years ago. This, said the group, was driven by very strong branded growth, which increased by 9.5% to £100.1m.
According to Premier Foods, the branded performance was due to an "excellent response" from the group's sweet treats innovation programme. The new 'better for you' Mr Kipling 30% less sugar Viennese Whirls supported revenue growth in the first half, the group said, adding that ranges such as the premium Mr Kipling Signature products and Cadbury Fudge and Crunchie cake bars also contributed to performance.
The company noted that Mr Kipling benefited from TV advertising in the period and it plans further investment for its largest brand in the second half of the year. Whitehouse said that premium Mr Kipling biscuits would be brought to market, and a full rollout of the brand in Canada and a test launch in the USA are also planned.
"We enter the second half of the year with strong momentum, and with a series of exciting plans in place for our brands, we remain firmly on track to deliver on our profit expectations for the full year," the CEO added.
While Premier Foods noted a range of challenges facing global supply chains, such as a shortage of HGV drivers, general labour shortages and "an increasingly inflationary environment", it said it is "actively and successfully navigating through this environment" and has "a series of robust plans in place for the second half of the year".
"With further inflation now evident across a variety of input costs, the group will be taking a range of actions which it expects will be effective later this financial year," the company added.
Premier Foods recently announced a new ESG strategy, called the Enriching Life Plan, which includes the target of doubling sales of products that meet 'high nutritional standards'.