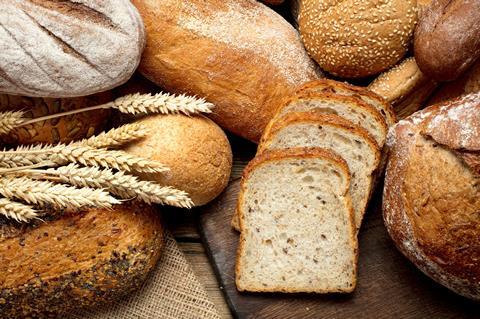 This year's dire wheat crop in the UK has left farmers and millers with concerns that bread prices may rise.
Farmers have faced heavy rain during winter and one of the driest springs on record, according to Tom Bradshaw, vice president of the National Farmers Union (NFU). Establishing crops was difficult and winter drilled crops lacked any spring growth.
"The combined weather pattern has resulted in the UK's lowest wheat crop area in 40 years this summer and we expect yields to strike a similar multi-decade low. This demonstrates the volatility that can be experienced across a farming year and why food production and food security must be taken seriously," he added.
Millers have started to import a greater volume of wheat from Germany in recent weeks to cover the domestic shortfall, adds David Eudall, head of arable market specialists at the Agriculture and Horticulture Development Board (AHDB).
Coronavirus distancing measures have meant that sample taking and analysis from farms is proceeding more slowly than usual. Therefore, a clear picture of the harvest has not yet emerged.
"We know that it will be small with many predictions around 10 million tonnes – down from 16 million tonnes last year. A crop of 10 million tonnes would represent the largest season-on-season drop –percentage and actual tonnage- in UK wheat production since records began in 1892," said Alex Waugh, director general of the National Association of British and Irish Millers (Nabim).
The smaller UK crop and lack of farmer selling have pushed delivered prices for bread wheat in the benchmark region of North West England up by nearly £50 per tonne (30%) compared with 2019, he said.
However, Eudall notes that wheat only accounts for 11% of the cost of a loaf of bread.
"There is no direct relationship between the price of wheat and the price of bread, so even though prices of wheat have risen in light of the lower UK harvest this year, this doesn't mean that bread prices will rise as well. Bread prices have lowered slightly during the year and retail prices are lowering in light of the coronavirus created recession," he said.
Waugh believes that a no-deal Brexit may increase the possibility of an import duty of £79 per tonne being applied to wheat from the EU from January 1 2021. This will add further pressure to the market, and a big import programme this autumn will seem inevitable, he added.
"Wheat prices only make up a fraction of the final cost of a loaf of bread, therefore a rise in the cost of wheat is unlikely to have much impact on store prices of bakery products. Furthermore, in a competitive market where consumers demand the best value, especially on staple items, retailers will do everything possible to prevent price rises," said Andrew Opie, director of food & sustainability at the British Retail Consortium.