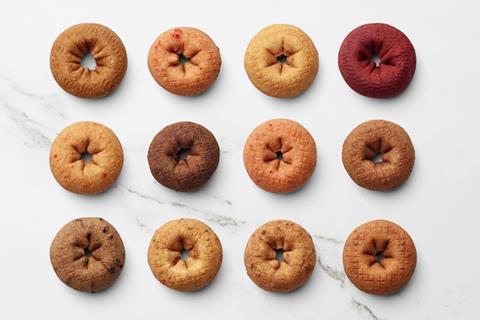 Dawn Foods has unveiled a vegan cake doughnut mix plus new limited-edition seasonal liquid flavourings and fudge icings.
The bakery ingredients supplier describes its just-add-water vegan Cake Donut Mix as easy to use and highly tolerant, enabling bakers and catering operators to produce fresh cake doughnuts in only 20 minutes.
No proofing time is required, and minimal equipment of just a hopper and fryer are needed to produce the doughnuts, which are said to come up quickly and without cracking. This means the production process is much faster and suitable for users with all skill levels, ranging from retail bakers to operators in mobile settings such as pop-ups or outdoor events, Dawn Foods said.
The mix can be used to make mini-sized doughnuts with a characteristic 'star' centre as well as novel shapes such as French crullers, churros or doughnut holes. Flavours can be added to help seasonalise or theme the doughnuts, which can be finished with icings (such as Dawn's new Pak Perfect Icing), frostings and toppings for additional texture.
Dawn Foods noted that, although the product is vegan, it tastes just as good its regular cake doughnut mix and thus appealing to a wide range of consumers, particularly younger ones who are mindful of the foods they eat and continue to drive the market for vegan foods.
The vegan Cake Donut Mix joins a regular version on Dawn's portfolio, which also includes regular and vegan Yeast Raised Donut mixes. Dawn highlighted that doughnut launches in Europe – particularly in the premium category – were up by 16% in Europe according to 2022 Mintel data.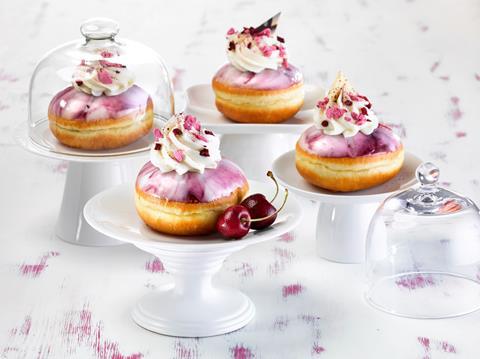 Dawn has also rolled out two new highly-concentrated, bake stable liquid flavourings – Black Cherry and Caramel Biscuit.
Made in the UK using natural flavour components, the limited-edition autumnal ingredients follow the success of Dawn's summer flavours of Classic Trifle and Wild Strawberry.
Black Cherry is a long-time favourite with consumers and its association with retro cakes such as Black Forest Gateau, with Dawn's liquid flavour giving a sweet but slightly tart cherry taste that pairs well with the likes of chocolate, almond, vanilla, and raspberry flavours.
Caramel Biscuit, meanwhile, is a 'flavour of the moment' combining sweet caramel notes with the traditional speculoos base. Dawn said bakers can make the most of the trend by simply adding a few drops of its flavouring to biscuits, muffins, cakes, and desserts, either in the batter or in ready-to-use ingredients such as creams, frostings, and mousses.
Both flavourings are naturally vegan and allergen free, and come with easy-to-use dosage caps.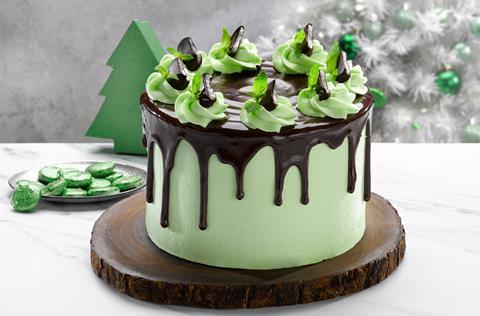 Looking ahead to the festive period, Dawn has turned two of the most iconic Christmas flavours – mint chocolate and chocolate orange – into ready-to-use fudge icings described as "perfect for creating retro-feel bakes".
Its new Mint Chocolate Fudge Icing delivers a rich chocolate flavour with an aroma of mint, said to be just like the famous after dinner treats.
Meanwhile, the Chocolate Orange Fudge Icing has rich dark chocolate, contrasting with sweet citrus notes of orange. Dawn noted it is a classic long-time consumer favourite flavour combination which has been big news across many product launches this year.
Both the new limited-edition fudge icings simply need to be warmed through for mailability before being used to layer, drip, cover coat, or drizzle a range of bakes. They are also suitable for vegans and vegetarians, and made from natural colours and flavours.
Available in 10kg pails, Dawn claims they offer bakers a cost-effective way to introduce on-trend, retro Christmas flavours without having to buy in lots of additional ingredients.