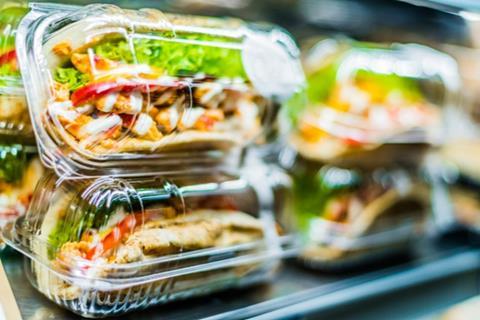 Eight in 10 food business owners admit they feel unprepared for the Natasha's Law allergen legislation coming into effect next month, according to new research.
The study, commissioned by global standards organisation GS1, also found four in 10 people across the food industry have never even heard of Natasha's Law.
The new law, which comes into force on 1 October, will require an individual label showing the name of the food item and a full ingredients list on all pre-packed for direct sale (PPDS) food from October. PPDS is food prepared on the premises where it is being sold, before the consumer purchases it, and either fully or partially enclosed in packaging.
The legislation, officially called the UK Food Information Amendment 2019, was passed in September 2019 after teenager Natasha Ednan-Laperouse suffered a fatal allergic reaction to sesame seeds, an ingredient in a baguette bought pre-packed at Pret A Manger, in 2016.
In spite of an information campaign by the Food Standards Agency to help businesses comply with the new regulations, the GS1 study found just over half of small and medium sized businesses have taken steps to be in a good position ahead of the new law. Only 39% are providing training on types of allergens and more than one in five say they are awaiting further training and guidance.
Only 48% of employees in small independent businesses have heard of Natasha's Law, although 79% of employees from chains and franchises were aware of the legislation.
Six in 10 business owners are now worried about allergic reactions happening at their property yet four in 10 said they wouldn't feel completely confident that they could answer a customer's questions about allergens with their food items.
Half of the business owners said they would need to get more allergen information from suppliers and find a better way to collate it, while 79% of chain and franchise owners said they would change suppliers if their current ones couldn't provide the correct information.
Chris Tyas, chair of GS1 UK and former acting director of Food Supply and chair Food Resilience Industry Forum, believes the research highlights the need for the whole food supply chain to have access to the full range of allergen data.
"One of the biggest concerns surrounding Natasha's law is whether businesses will be able to quickly and accurately get up to date allergen information – especially smaller businesses whose ingredients may change daily," Tyas said. "Yet the research shows that these small businesses are the least prepared.
"To comply successfully we believe the continued digitalisation of the supply chain is much needed. A recommendation that is also at the heart of the recently released National Food Strategy."
Henry Dimbleby, co-founder of Leon and author of the National Food Strategy, said Natasha's Law "represents a hugely positive, yet complex transformation for the food sector – one fraught with risk". Commenting on the research, he added that it was "worrying" that awareness of the law is inconsistent "but not particularly surprising after everything the sector has had thrown at it over the last 18 months".