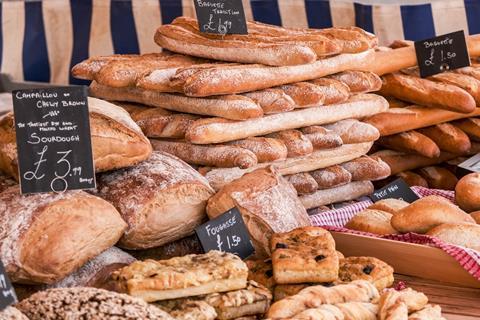 Costs and shortages are the chief causes of concern for craft bakers looking ahead to 2022, according to new research.
The latest member survey by the Craft Bakers Association (CBA) revealed that 100% of respondents were worried about an increase in costs driving higher prices. Nearly two thirds (59%) of bakers expressed concern about shortages of products, ingredients and general staff, while almost half (48%) said they expected to be affected by a shortage of skilled bakers.
More than half (55%) of respondents to the survey said that a candidates' lack of experience was the main reason they had struggled to fill vacancies, followed by 41% who found applicants didn't fit the criteria of the role in other ways, including a lack of knowledge and skills.
Looking ahead to the trends that will impact bakers most in 2022, 45% pinpointed healthy eating, with 40% highlighting plant-based eating, waste and local shopping respectively.
Nearly a quarter (24%) of respondents thought that sourdough would continue to be popular in the year ahead, while more than a fifth (21%) expected consumers to continue to seek out small and affordable luxuries. The current consumer penchant for nostalgia and retro was picked out to remain in favour by 21%, while 14% chose online ordering as the likely persistent trend for 2022.
One in 10 respondents said snacking would be a trend to watch, with other choices including grains and seeds (7%), natural (7%) and personalisation (7%).
"After seeing first-hand the way craft bakers have responded to the challenges of the past 18 months, we are confident they will meet the challenges expected in 2022 with the same tenacity, creative thinking and determination and that they will make the most of the opportunities the next year presents," said George Fuller, CBA chairman.
"As always, here at the CBA we will be here to lend our members advice, encouragement, and support," he added.