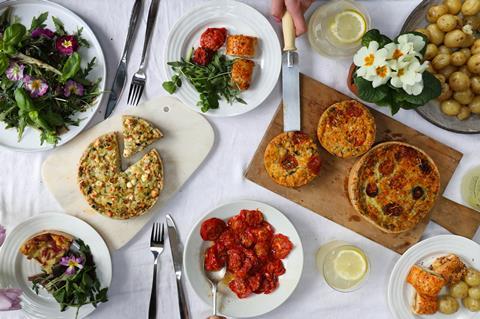 Vegetarian-led pastry brand Higgidy has released its first ever impact report, detailing the progress made on its sustainability strategy.
The strategy, known as Recipe for Responsible Business, focuses on the three core ingredients of planet, people and food, with the company's purpose stated as 'baking a difference'. Higgidy, which achieved B Corp certification in August 2021, uses the impact to report highlight achievements in its three key areas including the following:
Food – Higgidy has surpassed its target of 75% of products being vegetarian or vegan, achieving 78% with a long-term commitment to maintaining this
Planet – Following a successful trial to remove plastic acetate trays from Higgidy's Little Quiches, they have now been removed from sharing quiches too. This, the company said, saves 51.3 tonnes of plastic per year. Later this year plastic acetate cases in pie boxes will be switched to foil cases, which Higgidy said would save an additional 13.5 tonnes of plastic per year
People – As part of what it calls an 'ongoing commitment to creating a diverse and inclusive workplace', Higgidy has maintained a 0% gender pay gap across its workforce.
The report also highlights Higgidy's ambitions to become Net Zero by 2040, along with other key pledges including:
Ensuring 100% of packaging is reusable, widely recyclable or home-compostable by 2023
Halving operational food waste across the business by 2026 regardless of how big the business grows
Strengthening supplier relationships
Working even more closely with charity partners, which include FareShare, the Family Holiday Charity and the British Hen Welfare Trust.
"We are really proud of what we have already achieved but we know it is the responsibility of the business sector to help make a positive difference to our planet," said Rachel Kelley, CEO at Higgidy. "Our first impact report is a really exciting moment for us. It is a stake in the ground, giving us an opportunity to tell people what we have done already and what we are working hard on behind the scenes.
"We are committed to reducing our environmental impact and help the planet and to looking after our people – all while making sure our feel-good food is as exciting and tasty as it can be," Kelley added.