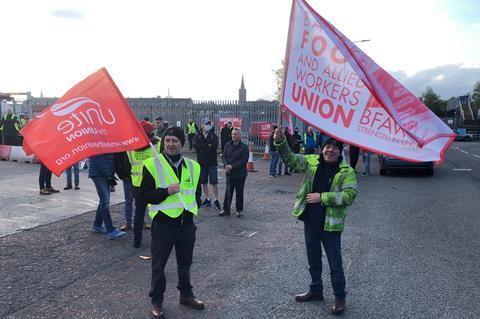 A workers' strike at Hovis' Belfast facility on Apollo Road has entered day six, with talks between management and unions breaking down.
The strike began at 6am on Friday 14 May following a dispute over pay as members from Unite the Union and the Bakers, Food and Allied Workers Union demanded a 10% pay rise to ensure parity with their counterparts in Great Britain.
Operations at the site have been disrupted, Hovis confirmed earlier this week, leading to supply issues across Northern Ireland and the Republic of Ireland.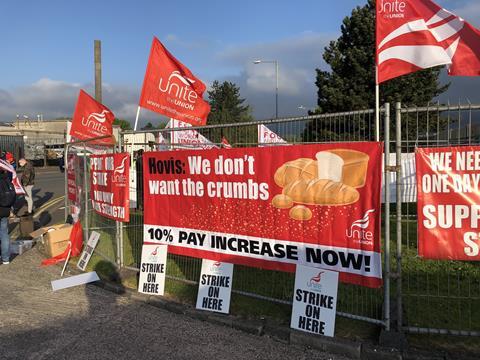 The parties met yesterday (18 May) for further discussions but these ended without an agreement being reached. Further talks are expected to take place tomorrow (20 May) with the help of the Labour Relations Agency.
A spokesperson for Hovis said they were "disappointed" that the unions have chosen to reject an "above inflation pay offer of 3.2% each year for two years".
"We believe this was a fair and reasonable offer given the current market conditions," the spokesperson added. "We remain committed to finding a resolution that is acceptable to both sides and to reaching a conclusion to this action as soon as possible."
However, Sean McKeever, regional officer for Unite, said the offer "totally failed" to meet the demand for pay parity, "let alone recognised the evidence suggesting a rapid increase in inflation".
"Picket lines at the company's Apollo Road site will remain in place until we get an offer that recognises the legitimate expectation of Hovis workers in Northern Ireland to equal pay with that received by employees at their sites in Great Britain," he added.
Hovis had previously dubbed the 10% pay rise demanded as "unsustainable". It has since added that reports of its employees in Northern Ireland earning 10% less than those in Great Britain "are not accurate because roles and salaries are not the same across all our bakeries and pay is determined by a range of factors including differences in site working practice".