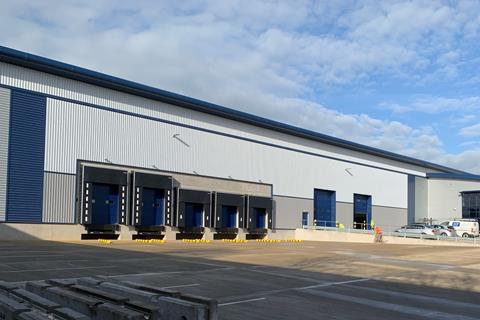 Bakery ingredients supplier BFP and sister company Kent Foods have opened a multimillion-pound depot in Daventry.
The 73,000 sq ft site in Sopwith Way replaces and expands capacity lost after a fire in September 2020 destroyed the firms' depot in Basildon. The purpose-build facility adds to their nationwide network of depots in Bristol, Livingston, Leeds and Lewes and brings total capacity to more than 200,000 sq ft.
The Daventry depot embraces the latest warehouse and logistics thinking, BFP and Kent Foods. Its layout has been designed to maximise efficiency and with a fully digital warehouse management system designed to reduce lead times for customers.
It has capacity for up to 10,000 ambient pallets and will also house refrigeration units for chilled and frozen ingredients. Initially opened with a core team of five full-time staff, it is envisaged that this will rise to 40 employees once at full capacity.
"We chose Daventry for our latest expansion because of its strategic location in the 'golden triangle' of logistics with quick access to three arterial motorways linking Daventry to the rest of the UK," said group operations director Michael Dalglish. "As home to dozens of major logistics businesses, being in the 'golden triangle' also means that our depot is staffed by a highly experienced team."
It will service Kent Foods' food manufacturing customers and BFP's bakery customers in the Midlands and home counties.
BFP supplies thousands of bakers with a range of ambient, chilled and frozen products from leading bakery brands. Kent Foods, meanwhile, specialises in the distribution of sugars, sweeteners, dairy products, oils and fats to the food manufacturing industry.