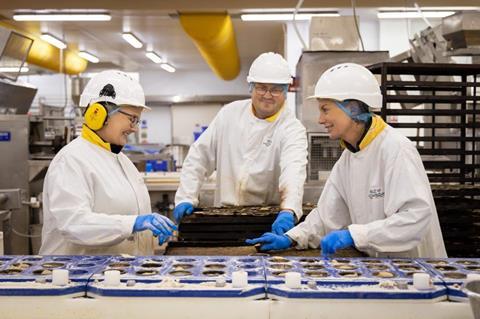 Pork pie manufacturer Vale of Mowbray has moved to a four-day working week.
The new shift pattern is Monday to Thursday or Tuesday to Friday inclusive, with four 12-hour shifts. The company is also looking into creating part-time roles within this to offer additional flexibility.
Employees at the business, which was established in 1795 and bakes over 1.5m pies every week, have also received a pay rise to £10 an hour which is above both National Minimum and National Living Wage. The latter, which applies to those aged 23 and up, is £8.91 an hour. Those who wish to work overtime can also do so at time and a quarter, Vale of Mowbray added.
"Our people are our most valuable asset, and we're keen for them to enjoy a work-life balance. It suits us operationally to make the change to a four-day week but more importantly it suits our staff, especially since they have the option to use one of their days off to earn additional money if they wish to," said Sheree Walker, head of HR at Vale of Mowbray.
"Increasing our shifts to being 12-hour has enabled efficiencies that mean we can maintain or even increase output without the need for night shifts, giving our people a more family-friendly working pattern as well as a three-day break each week."
Based at Leeming Bar, North Yorkshire, Vale of Mowbray employs over 200 people.
Vale of Mowbray managing director Mark Gatenby, who stepped into the role last year, said the move was "only the start" as it aims to be "a great place to work". The staff retention, Gatenby added, was testament to this with some employees having worked for the company for over 20 years.