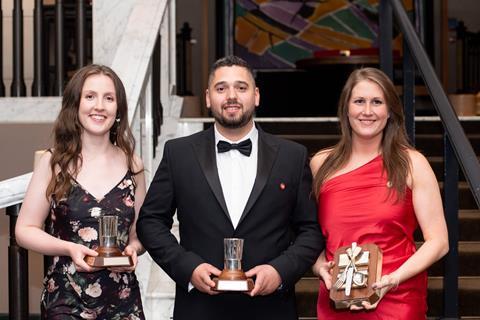 A Harrods pastry chef de partie has been crowned the 2022 Royal Academy of Culinary Arts' (RACA) Young Pastry Chef of the Year.
Caitlin Walsh lifted the title after attaining the highest score in the competition, which saw pastry finalists produce 30 canapes in 5.5 hours.
Elliott Welsh, pastry chef at 21 in Newcastle, and Mignon Strydom, demi chef de partie at The Dorchester, were also named Annual Awards of Excellence (AAE) winners for achieving a score of 70% or more – the standard set by the judging panel which included Yolande Stanley from The Pastry Company and pastry consultant Sarah Hartnett.
The pastry candidates were tasked with creating 10 millefeuilles, 20 sweet and savoury bouches, six verrines, as well as two Sacher-Tortes following a recipe from the late influential pastry chef Professor John Huber.
"I'm so shocked but very grateful," Walsh, who received the accolade at a Gala dinner held at Rosewood London hotel, said. "I didn't expect to be awarded Young Pastry Chef of the Year, but I'm completely honoured and beyond happy.
"Being here at the Rosewood is amazing, and the whole AAE process was a testing and rewarding experience. I never pictured anything like this happening in my career and would encourage anyone to enter the competition"
Richard Larkin, chief executive of the Royal Academy of Culinary Arts said the Annual Awards of Excellence remained "the essence of the Academy's education philosophy" and was, in 1983, when it was launched, "the first of the Academy's many initiatives that have raised the bar and set standards for the industry over the past three decades".
John Williams, chairman of the Royal Academy of Culinary Arts added: "The Annual Awards of Excellence provides a much-needed opportunity to showcase the exemplary talent of our brightest young chefs, pastry chefs and waiters working throughout our culinary and hospitality industries.
"I hope that by taking part in the process, all candidates are motivated and inspired to continually better themselves through training and experiences, and then pass their knowledge onto others as they progress through their careers."
Winners in both kitchen and service categories were also announced at the event. Thomas Fenemer, junior sous chef at The Newt in Somerset, was named RACA's Young Chef of the Year while Daniela Mayer, assistant restaurant manager at The Gleneagles Hotel, Scotland, was named Young Waiter of the Year.