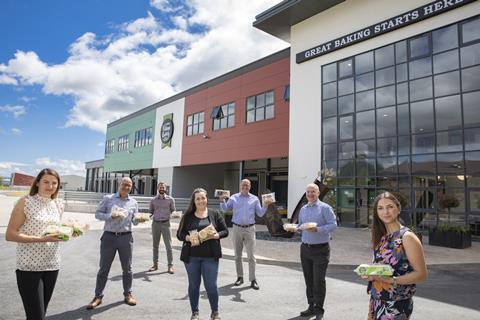 Jones Village Bakery is looking to hire 50 workers as it prepares to open its new 140,000 sq ft 'super bakery' this summer.
The employer is opening up 30 full-time and 20 part-time positions as well as 'family-friendly' shifts. New recruits will start on £9.50 an hour with supervisors earning up to £13.24 an hour, the family-run business said.
The activity forms part of the company's first phase expansion plan that will see 115 new jobs created in total.
The new bakery on Wrexham Industrial Estate is four times the size of the original which was destroyed by a devastating fire in August, 2019 and is due to open at the end of July. It will house the company's main offices, and the new complex will also include the new Baking Academy and New Product Development kitchen – both twice the size of the previous ones.
Jones Village Bakery, which rebranded from Village Bakery earlier this year, currently employs more than 400 people and has two other bakeries on the industrial estate and another in the nearby village of Minera.
Managing director Robin Jones said some staff would be drafted across to help with the launch of the new site.
"We have had a policy of growing our own staff for many years and three of our bakery managers started out on the ground floor," he said.
"We're looking for the next line leaders, supervisors, production managers. The career path at the Jones Village Bakery is very well documented and we're looking for people who want to apply themselves. It's not purely about qualifications. This is about people who want to make a difference, people who are passionate and people who want to get on in life.
"Keenness and the ability to learn are the foremost qualities we'll be looking for – we want to nurture those people, teach them how to be top class bakers and take them on that journey of success."
Group HR manager Jason Page, added the business was in "full recruitment mode".
"In the main we are looking for production operatives and packing operatives," he said. "The Jones Village Bakery is a Real Living Wage employer so that's £9.50 per hour if you're working on days and £9.79 if you're working on nights. We look to try to identify talent, upskill individuals and then we have a range of pay rates, rising all the way through to £13.24 for our supervisory positions and there's a whole raft of rates in between them.