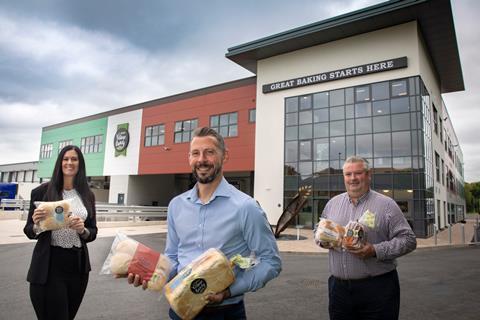 Jones Village Bakery has been praised for its inclusive approach to employment at its new plant in Wrexham.
Lynne Evans, an executive account team leader for North and Mid Wales at Remploy, which provides employment places for disabled people, credited the North Wales bakery for being a "role model" for other businesses.
The company recently opened its 140,000 sq ft 'super bakery' after a devastating fire ripped through the previous production facility on the site and is now in the process of recruiting 115 new staff to its existing 400-strong workforce.
"We have placed people here in the past and there are two people who have just started," Evans said.
"We check in with the Village Bakery to see how they're getting on and do any kind of training we can help with. We offer disability confidence training, mental health awareness in the workplace, things like that. It can be absolutely life-changing."
Village Bakery, which has two other bakeries on the industrial estate and another in the nearby village of Minera, also works with nearby HMP Berwyn.
Richard Outwin, a work coach at the prison, said he was grateful to the Jones Village Bakery for giving ex-offenders the opportunity to turn over a new leaf.
"What employment does is give guys focus and they become economically secure, which is helpful," he said.
"We have a great relationship with the Village Bakery and it will hopefully flourish even further going forward. If more employers were as understanding as the Village Bakery it would certainly be of benefit to society at large."
Jason Page, Jones Village Bakery HR manager, described the family-run business as having a "real vested interest in the local community" and said it sought to "find talent from all walks of life".
"This is something we have been doing for some time and it's all the more important now when companies across the board are finding it difficult to recruit people," he added. "As a result, we are able to tap into another potential pool of labour and can provide meaningful employment to people for whom a job can be the chance to turn their life around, providing dignity and purpose.
"We are a Real Living Wage employer and, for anybody who wants to work hard, we can offer a bright future."
The new bakery features a 120-metre-long 'state-of-the-art' manufacturing line which was imported from Italy and Holland and can make 36,000 bread rolls an hour.
The site is managed by Ashley Dawson, who joined the business six years ago as business sustainability and improvement executive at the age of 24.
As well as housing the company's main offices, the new complex also includes a baking academy and NPD kitchen – both twice the size of the previous ones.