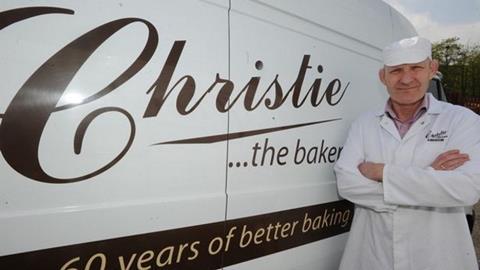 Scottish bakery firm JB Christie, which runs Christie the Baker retail outlets in Coatbridge and Airdrie, has reopened its online ordering system during the Covid-19 pandemic.
Just before the lockdown, JB Christie had rolled out a low-cost ordering system with a shopping page, six products and a checkout to serve customers who are self-isolating and help them stay safe. Social media was used to promote pick-ups and local next-day delivery.
After the government announced the lockdown, owner Andrew Chisholm decided to close down the Airdrie-based bakery, including its high street shops and online store.
"Never ones to give up, we saw how the lockdown was affecting our community and how difficult those who were isolated were finding things, so we decided to reopen JB Christie's online and try to make a go of it despite the challenges," said Chisholm.
After re-opening, the online store offered delivery only. Deliveries were a success, with 73 orders on day one, 310 orders on day one-and-a-half, 73 orders on the following Monday and 236 on the Tuesday.
"This run of orders has not slowed and it has created its own pressures in terms of baking in a safe way and ensuring deliveries are made on time and safely socially distanced. It has been a huge learning curve, but we are delighted to have been able to pull it off for the good of our isolated and vulnerable customers," added Chisholm.
"As lockdown continues, we will be gradually increasing the products available online and monitoring its effect on both buying patterns and production. We will be focusing on the long-term strategy for trade orders, the existing high street shops and the online business."