Sustainability has emerged as a complete, cohesive moral system to guide decision-making – defined by what is acceptable, fair and equitable in the near and long term. So with consumers holding a more holistic view of eco-credentials than ever before, how can you ensure that sustainability is a key ingredient in your business?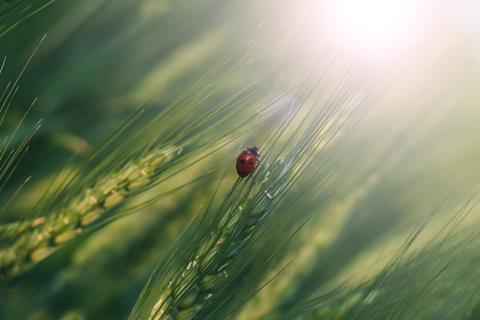 Today's consumers hold a more holistic view of sustainability than ever before as they connect it to what is right and just for them, their family, their community, the environment and, ultimately, the future of humanity.
The Covid-19 pandemic has escalated concerns as awareness of interconnected ecosystems and the impact of human behaviour grows, highlighted in events like increased air quality during lockdowns. Meanwhile, natural disasters from wildfires in Australia to flooding in Germany, alongside the 40oC record temperatures that we have just experienced in the UK last month, are fuelling global conversations on climate change. Consumers are also specifically noticing the connection between the food system and sustainability, driving demand for ethical production and sourcing practices to protect the planet and the food supply for future generations.
There is still time to make a difference
Optimism is tied to a sense that consumer behaviours can make the difference. A recent study1 suggests that 54% of UK consumers believe that if we act now we still have time to save the planet, and 56% believe that their behaviour can make a positive difference to the environment. A second study indicates that, in 2020, 63% made greater efforts to reduce their carbon footprint (up from 33% in 2019)3.
Green credentials are influencing purchasing habits, with over a third of consumers seeking out more environmentally-friendly food brands over the last two years3 and 70% of global (65% of European) consumers looking for claims of reduced carbon footprint/no carbon footprint when buying food, drinks or supplements (up from 41% the previous year)4.
So, in this world of consumer demand for trustworthy transparency, how do brands become chosen partners for those consumers looking to make a difference?
The sustainability journey is going to be different for every business depending on factors such as: size, target market and resources available. So it is important for companies to engage on the issues that are most impactful and relevant to their business – and look to their suppliers to ensure sustainable practices along the whole of the supply chain.
Monitor and report on your carbon emissions
The measuring of a company's greenhouse gas emissions is classified into three Scopes: 1 – direct emissions (owned); 2 – indirect emissions from energy (owned); and 3 – other indirect emissions (not owned) – such as raw ingredients. By monitoring and reporting on these carbon emissions, companies can carve out a plan to reduce their carbon footprint.
Scopes 1 and 2 are mandatory to report, whereas Scope 3 is voluntary and the hardest to monitor. However, companies succeeding in reporting all three scopes will gain a sustainable competitive advantage2.
ADM Milling UK's Pledge
This is where ADM is paving the way with good business practices, progressive solutions and mindful actions that make a positive impact.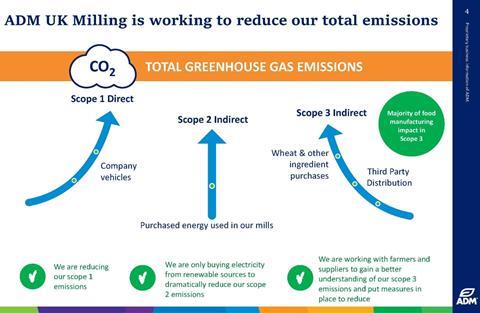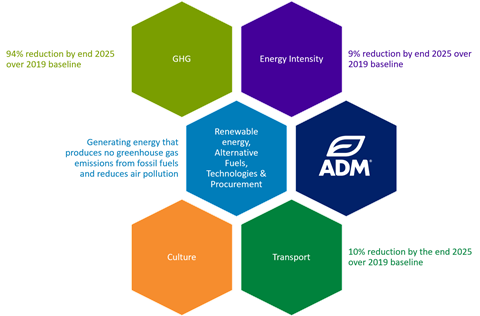 Scope 1 – Direct emissions (owned): Activities owned or controlled by an organisation that release emissions straight into the atmosphere. Examples include emissions from company facilities and vehicles.
In recent years both Hovis and Warburtons have introduced 7.5-tonne and 16-tonne electric vehicles into their bread delivery fleets, inspiring other businesses to follow suit.
Now, with the Government having set ambitious targets to end the sale of non-zero emission heavy goods vehicles from 2035 (for vehicles of 26-tonne GVW and below, and 2040 for heavier vehicles) companies like ADM have been making changes to their fleets to reduce their carbon footprint. As part of this plan , the ADM Milling Tilbury distribution team participated in what vehicle manufacturer DAF Trucks has described as "one of the largest and most significant deployments of zero-emission trucks in the UK to date". During this time, deliveries were made daily in London using the 19-tonne DAF electric vehicle. Usage data, analysis and driver's feedback were provided to DAF Trucks to assist in the further development of zero emission heavy goods vehicles.
The 20-strong fleet of 19-tonne DAF LF electric vehicles were also deployed to a range of public bodies, including the National Health Service and local authorities. The initiative is expected to make a significant and positive impact upon the move to zero emission vehicles.
72% of global consumers perceive bans or limitations on diesel/petrol/gas vehicles as a solution that has a high to moderate impact on the environment5

Mintel - Sustainability Barometer Webinar, April 2022
Scope 2 – Indirect emissions from energy (owned): Emissions being released into the atmosphere associated with an organisation's consumption of purchased electricity, heat, steam and cooling. These are indirect emissions that are a consequence of the organisation's activity, but which occur at sources which the organisation does not own or control.
With 82% of global consumers perceiving investments in renewable energy as a solution that has a high to moderate impact on the environment5, moving to run facilities via a renewable source of energy seems like a tangible win. But businesses also need to manage, monitor and reduce their energy usage to achieve a truly carbon neutral operation.
For example, with implementation of the ISO 50001:2011 energy management system throughout ADM's flour milling locations, it has created a culture of energy usage monitoring and saving, thus allowing the company to track its progress in reducing greenhouse gas (GHG) emissions and energy intensity.
Since 2017, ADM Knottingley flour mill has received energy from a hydroelectric power station on the nearby River Aire. And this commitment has been further enhanced by its 2021 pledge to purchase all of its electricity from 100% renewable sources, thereby reducing its GHG emissions from milling operations to almost zero.
Scope 3 – Other indirect emissions (not owned): These emissions are a consequence of the organisation's actions, which occur at sources that the organisation does not own or control and which are not classed as Scope 2 emissions. Examples of Scope 3 emissions are business travel by means not owned or controlled by the organisation, such as rail travel, flights, emissions from activities that your company has outsourced or contracted to others and emissions from the extraction and production of purchased materials and fuels - such as raw ingredients (i.e. wheat, etc).
So when it comes to CO2 emissions the largest contribution in the flour supply chain is the growing of the crops at farm level.
Regenerative agriculture* aligns with consumers' focus on soil health as the foundation of a healthy ecosystem, and awareness of the specific term is likely to increase. For the larger supply chain and across industries, consumers are seeking out carbon-neutral practices throughout the chain of production, with some already demanding carbon-negative. Expectations are climbing for companies to publicly commit to – and transparently implement – new innovations to manage the production, distribution, and disposal of their product.
Recent changes in UK agriculture and energy legislation have left farmers open to embrace working towards more sustainable farming methods.
In 2021, through ADM's recent membership of the Cool Farm Alliance, ADM Agriculture launched a contract with milling wheat growers to gather carbon footprint data to increase our understanding of the level of carbon being generated during the wheat growing process at farm level, and with the longer-term aim of working collaboratively with our supply chain to manage down GHG emissions.
With the 2022 harvest upon us, we would expect the initial findings to soon be ready for assessment, following which ADM and growers will work collectively to make improvements.
"Our plan is to work with a collective of growers to establish base line data on CO2 emissions, water usage and bio-diversity and develop a medium-term programme that demonstrates an improvement across these areas"

Jonathan Lane, ADM Agriculture UK
With shifting consumer demands to fight climate change and manage natural resources, the need to reduce environmental impact is critical. Initiatives such as ADM's carbon-neutral milling network and regenerative agriculture programs offer bakery businesses a pathway to reduced carbon flour options.
In summary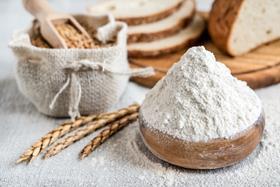 There are many paths to satisfy today's global consumer trends for a more sustainable future. And to try to walk all of them at once can be overwhelming. So businesses should look to what is tangible for them and their customers by making the Scope 1 and 2 changes to their operations and working with their suppliers to provide assistance in reducing their Scope 3 supply chain carbon emissions.
ADM Baking Solutions Portfolio
Learn more about our extensive portfolio of wholesome nutrition ingredients plus complementary ingredients and key enablers to meet your needs for optimising taste, texture, nutrition, functionality and cost factors at www.4flour.co.uk or email the ADM Milling Team @ sales4flour@adm.com.
Sources:
1 Mintel - Sustainability Barometer Webinar, April 2022 - Base: 500 internet users aged 16/18+ (Source: Dynata/Lightspeed/Mintel March 2021)
2 https://plana.earth/academy/what-are-scope-1-2-3-emissions/
3 FMCG Gurus – Impact of Sustainability Before & During COVID19, 2021 - Proportion of consumers who have done the following over the last two years. 2020 (2019 figures in bracket)
- 37% of consumers have made greater efforts to seek out more environmentally-friendly food brands (25%)
- 63% of consumers have made greater efforts to reduce carbon footprint (33%)
4 FMCG Gurus – Impact of Sustainability Before & During COVID19, 2021 - Do you look out for any of the following claims/pledges when buying food, drinks or supplements? 2020 (2019 figures in bracket)
- 70% of global (65% European) consumers look for claims of reduced carbon footprint/no carbon footprint when buying food drinks or supplements (41%)
5 Mintel - Sustainability Barometer Webinar, April 2022 - Solutions consumers think will save the planet - Base: 500 internet users aged 16/18+ (Source: Dynata/Lightspeed/Mintel March 2021)
* Regenerative Agriculture explained
With consumers increasingly anxious about the state of the environment and climate change, the most engaged are expressing concern that maintaining the status quo is not enough to stave off major environmental catastrophe. While sustainability implies the preservation of the current norms and processes, regenerative agriculture speaks to address these concerns by going a step further and focus on restoring and rebuilding the soil.
For consumers, soil health is a rising area of interest that connects better flavour, better nutrition, and better ecology. Encompassing an array of farming practices such as biodynamic and permaculture, regenerative agriculture directly addresses soil health and carbon sequestration, quickly moving the consumer conversation around food quality beyond mainstream distinctions such as organic. While the regenerative agriculture movement seems on the surface to be more environmentally driven, it encompasses the holistic shift that sees wellness, quality, and the environment as interconnected spheres.