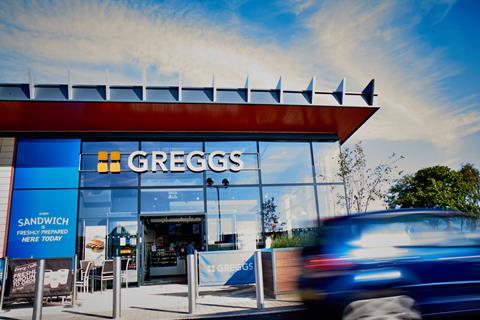 Franchise partners will play a 'critical part' in Greggs' expansion plans, the business has said, as it opened its 400th franchise-operated shop in Selby, North Yorkshire.
The latest addition to its growing estate was opened with the business' newest franchise partner Rontec which operates over 200 forecourts across England and Wales.
It marks a key milestone for Greggs as it expands its retail estate. In October 2021 the business unveiled plans to accelerate the rate of net shop openings to around 150 per year from 2022, with an ambition to reach at least 3,000 shops across the UK as the next target for supply chain capacity planning. Of the yearly net new shops, around 50 are expected to be opened via franchise partners with franchise shops anticipated to account for 20% of the total estate in the years ahead.
Greggs said its franchise partners (of which there are 14) play an important role in providing the company access to otherwise restricted locations such as motorway service areas, petrol filling stations, educational establishments and smaller high street convenience sites. This access is even more important as Greggs targets on-the-go locations that are accessible by car.
"We're delighted to announce our 400th franchise opening today, which demonstrates the success of our franchise model," said Malcolm Copland, commercial director at Greggs.
"Last year we set out an ambitious shop expansion target and our franchise partners will play an instrumental role in helping us achieve our goals. Over many years we have developed strong relationships with key franchise partners which has allowed us to accelerate our shop expansion plans, open in more on-the-go locations and become even more accessible for our customers."
Greggs' franchise partners include EG Group, Moto, MFG, Blakemore, Welcome Break, Park Garages, Compass, HKS, Falcon, Applegreen NI, Henderson, Appleby Westwards, and Ascona.