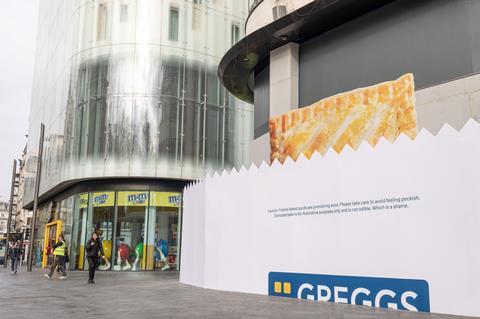 Greggs is to claim a presence in the heart of one of London's busiest tourist destinations with the opening of a flagship store at 1 Leicester Square in the summer of 2022.
Although the shop's exact opening date has yet to be confirmed, hoardings at the site depicting the bakery chain's Steak Bake emerging from a Gregg's bag suggest building work is already underway at the location.
Greggs 1 Leicester Square will follow recent openings in other London hotspots, including The Strand, Canary Wharf, Paddington, St Pancras Station and Kings Cross – all of which form part of a strategic focus on increasing the brand's presence in central London.
The new store will sit alongside other big-name brands in the area, including M&M World, Lego and Global, as well as Cineworld and Odeon, regular venues for red carpet film premieres.
Visitors to the new shop will be able to purchase various Greggs deals and favourites throughout the day, alongside regionally themed items such as London Cheesecake and Tottenham Cake. Customers will also be able to make click & collect orders, as well as earn rewards across the menu via the Greggs App.
Around 150 new Greggs shops are set to open over the next year, taking the total to just under 2,500. In its annual report published in March 2022, the bakery giant reaffirmed its ambition to have at least 3,000 shops across the UK, with the heart of the capital highlighted for its opportunities. "Central London is one geographic region where lower rents now allow entry for value-led brands, and we have a strong pipeline in development," the report said.
Confirmation of the new Leicester Square outlet follows the opening in February 2022 of Greggs' largest site to date, in Primark's flagship store in Birmingham.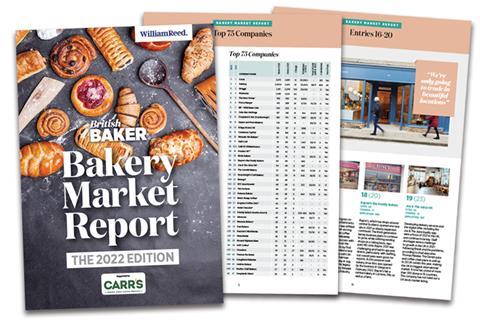 DOWNLOAD THE BAKERY MARKET REPORT 2022
Find out more about Greggs and its competitors in our unique snapshot of Britain's out of home bakery market. The core of the report is the 'BB75' listing, which contains details of the country's 75 largest bakery-focused operators ranked by the number of stores they operate. Download now to find out where Greggs is on the list.
Information in the report includes:
Number of sites operated (as of 1 January 2022)
Year-on-year growth/decline in sites
Number of employees
Food and drink split
Analysis of key activity in 2021
Plans for 2022