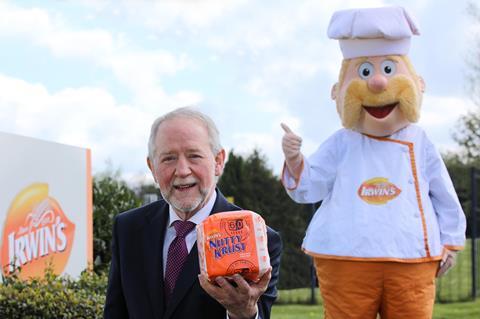 Northern Ireland business Irwin's Bakery has revealed a new packaging design for Nutty Krust bread to celebrate the brand's 60th anniversary.
To accompany the makeover, a range of commemorative merchandise will be available via the Irwin's website. The celebrations will also include 60 days of competitions and recipes shared across the baker's social media channels throughout the summer.
Irwin's will be partnering with retailers and other brands from Northern Ireland to give away Nutty Krust merchandise, hampers, 'staycation' competition prizes and in-store promotional offers, the company said.
Nutty Krust was first sold by Irwin's in Northern Ireland on 30 August 1961. According to the baker, an 18-hour fermentation and slow baking process on the sole of the oven gives the bread a 'distinctive and unique' flavour.
Figures suggest the brand remains popular among consumers, with IRI data showing sales of Nutty Krust increased by 22% in the 52 weeks to 21 March 2021.
"It's enjoyed and recognised as a comforting taste of home by people of all ages – so much so that we get regular requests for overseas deliveries for people who have moved away from home and miss a good old slice of Nutty Krust," said Brian Irwin, chairman of Irwin's Bakery.
"Whilst the birthday isn't officially until the end of August, we're launching the celebrations early and will be keeping the party going right through until autumn," he added.
"We want to say a big thank you to everyone in Northern Ireland who keeps supporting Nutty Krust – and we hope to make its seventh decade the best yet."